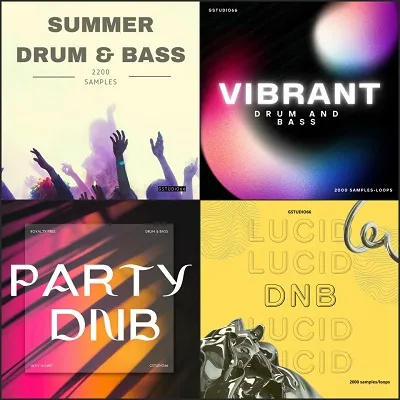 This complete DNB collection includes over 9200 samples, pad files, full drum loops, liquid DnB pianos, great basses, loops and snare synths and many more other different styles of Drum and Bass great sounds.
Bundle includes the latest Drum and Bass Sample Packs:
– Lucid Drum and Bass Collection (2390 files)
– Summer Drum and Bass Collection (2200 files)
– Party Drum and Bass Collection (2345 files)
– Vibrant Drum and Bass Collection (2305 files)
Expertly produced and directed at the modern drum & bass producer, these samples will help you add in that final touch to make your track stand out from the crowd. Introducing great atmospherics, powerful pads, and shifting FX transitions, creating seamless movements of bass tension and release within your mix.
The "Drum and Bass Packs 1-4 Bundle Samples Collection" is the greatest addition to your Drum and Bass and Neuro DnB perfect samples sounds library. Almost 26GB of pure Drum and Bass and DnB Music Premium Audio Sounds!
Here's what you can expect with Drum and Bass Packs 1-4 Bundle Samples Collection':
DnB Bass Loops
FX Samples
DnB Pads
Bass Hit Samples
Aggressive Kicks and Snares
Various Synths
Full Drum Loops
Various FX Loops
FX Vocal Samples
Even More Drums!
Drum Bass Arps
DnB Risers
From Liquid to Halftime and Neurofunk styles, the full spectrum of DnB will benefit from these samples, loaded with fascinating textures and bassweight rhythms.
This Bundle brings you only the best sounds available, pulling from a varied collection of sound sources including classic analogue and digital synths, real-world instruments, and high-quality old school recordings.