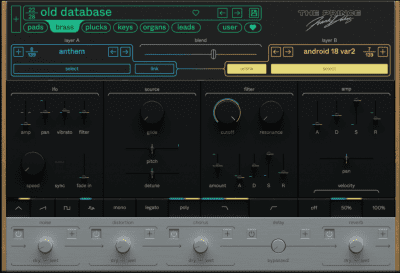 During his 20-year career, Frank Dukes has produced some of the most famous artists of this generation. Names such as Drake, The Weeknd, James Blake, Frank Ocean and Taylor Swift grace his vast collection of works.
Frank's use of emotional sounds, thoughtful arrangements and luscious melodies has become a hallmark of his songs and productions.
Simply put, Prince was created out of necessity. Using an extensive collection of vintage synthesizers in his studio, Frank has created a wide variety of sounds and combined them into one instrument.
No matter where in the world he is, Prince allows Frank to enjoy his creativity the moment inspiration strikes.
Over 130 original samples from a variety of vintage synthesizers, complete with a variety of controls and effects to help you create the perfect sound.
Prince lets you control two layers independently and blend them with powerful blending controls. Whether it's complementary or challenging, soothing or bizarre, discovering your next sound with The Prince is easy and exciting.
Frank Dukes' idea that anyone can make music was carefully considered during the development of The Prince. From beginners and hobbyists to songwriters and synthesizers, how deep you go is entirely up to you.
A full suite of studio-quality effects always open up new possibilities for creativity. Instantly add depth, space and color to make your next piece even more vibrant.