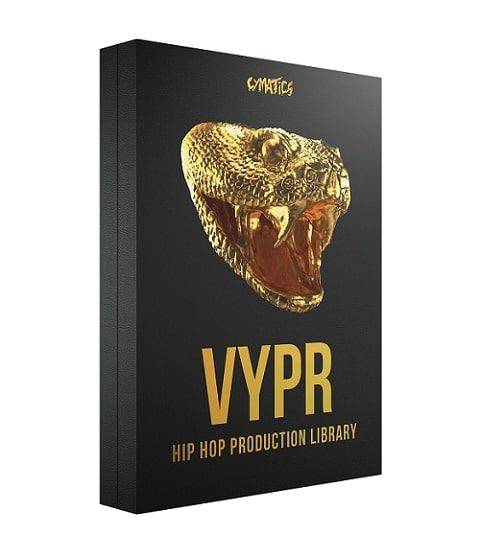 Added: Instruments, Melodics & Basses
Publisher: Cymatics Site: Cymatics
Format
WAV, MIDI, Serum, Massive, Omnisphere, Ableton, FL Studio, Logic Quality 24 bit 44.1 kHz stereo Description
VYPR is by far the highest quality sound library we have ever created.
We've brought in the best musicians in the music industry, as well as world-class songwriters and designers with thousands of hours of collaborative experience.
They worked day and night with our production team, recording various instruments, experimenting with new synthesizers, making TEN session recordings with world-class musicians, and more.
And the result is a huge, extensive library of amazing recordings of studio sessions and incredible melodic elements.
VYPR contains more than 6000 samples and compositions of high quality, as well as many incredible bonuses that complement the VYPR experience with samples, MIDI, synthesizer patches, drum frameworks and much more!
We have seriously done everything possible to make VYPR a truly revolutionary tool that will help you create new music over the next 3-5 years.
Arsenal of world-class
melodies and compositions In fact, we have invested more than $ 100,000 in this project.
We had studio sessions with dozens of professional musicians.
All of the percussionists who have been assembling percussion instruments for over 40 years…
… a Grammy-nominated pianist who can literally perform any style of hip-hop melody we want…
One of our favorite sessions was actually a harpist who came in with the most beautiful melodies unlike anything we'd ever heard before!
After looking at how much gold comes from each studio session, we realized that the investment was worth it!
We're done with a collection of melodies and compositions that will help you create unique rhythms over the next 5 years!
Content
Perfectly Designed 808s, Synth Basses & Real Bass GuitarsThe bass can easily define you and your production.
Producers who don't have heavy hitting 808s and basses often struggle to stand out with their production.
Which is why we spent so much time with our sound design team hand crafting each 808 & bass to match popular styles of Hip Hop!
We even went over the top and provided a great selection of real bass guitar recording that can add a lot of that feeling to your bass that can make your beats stick out!——————————————–Our Largest Drum Sample Collection Ever! Before we even started working on the drums for VYPR, our entire production team did 1 thing…
Studied hundreds of top hip hop beats.
This was everything from modern beats from artists like JuiceWrld, DaBaby, & Migos to even 90s hip hop records from guys like Biggie Smalls & Mobb Deep.
After breaking down every element we could, we mapped out everything that would make VYPR drums the only set of drums you'd ever need.
Then our engineers & drum designers got to work and created thousands of drums to match every style of top Hip Hop produced in the last 30 years!
The results was the biggest & well organized sound libraries we've ever created!
Overall, this huge selection of basses alone can have a huge impact on your production.——————————————–Can I sell beats & get placements using VYPR? When you get VYPR, you're actually getting a full license to use everything inside the sound library for your production.
The reason why VYPR is so valuable, is because if you make a beat, land a placement, get a record on Spotify, or make money off of your productions in any other way, you will keep 100% of your money…
… You don't pay Cymatics ANYTHING.
This also means you don't have to deal with sample clearance. (Which is a producers' worst nightmare)
Also since you're going to be one of the exclusive producers to get one of the 1,750 licenses, you'll have a HUGE advantage over the million of producers who share the same resources online.
Overall this is a phenomenal investment for your production career and we believe it's going to take your beat production to a whole different level.6 Exclusive Bonuses Included With VYPRBONUS #1
$137 VALUE
SERPENT LO-FI COLLECTION
This Lo-Fi Collection contains incredible samples and compositions that capture the essence of the modern Lo-Fi genre.
Every sound is carefully designed to help you write and create incredible Lo-Fi music — with plenty of melodies, synth one shots and drums that fit well in any hip hop genre as well. BONUS #2
$147 VALUE
SLITHER MIDI COLLECTION
This is a perfect extension for VYPR, giving you an amazing collection of MIDI files that you can study to improve your songwriting skills, or tweak and rearrange to create memorable compositions and progressions that stand out from the crowd.
This will give you the potential to make hundreds of unique beats! BONUS #3
$97 VALUE
RATTLE HIP HOP DRUM FRAMEWORKS
These frameworks will help beginner producers to learn about different structures, and can help advanced producers save time when composing patterns for their productions. BONUS #4
$147 VALUE
VENOM SYNTH COLLECTION
We had some of the best sound designers in the industry create an all-encompassing collection of high quality patches for Serum, Massive and Omnisphere.
You'll get different textures, soundscapes and an overall diversity of sounds, including Bells, Keys, Plucks, Pads, Leads, and more. BONUS #5
150 Exclusive Gold VYPR USBs with Secret Content
ATTENTION: USB FLASH DRIVES ARE LIMITED TO 150 AND SELL OUT EXTREMELY FAST!
To celebrate the release of VYPR, and to give back to our most dedicated supporters…
We're giving away an Exclusive VYPR USB to the first 150 producers who get a license of VYPR!
This USB will come pre-loaded with a secret gift that will never be available anywhere else. BONUS #6
$100 Gift Card
As a way of saying thank you for being so supportive, we want to give everyone who gets VYPR a $100 Cymatics Gift Card that they can use on future products.
You can use this Gift Card to buy anything you want from the Cymatics store — take a look and explore the other soundbanks and products we've built up over the years!" VYPR" Sound Library SpecsCATEGORY AMOUNT FORMAT
VYPR Sound Library 6500+ . WAV
BONUS 1: SERPENT LO-FI COLLECTION 367 . WAV
BONUS 2: SLITHER MIDI COLLECTION 294 MIDI
BONUS 3: RATTLE HIP HOP DRUM 14 FL, Ableton, Logic
BONUS 4: VENOM SYNTH COLLECTION 227 Serum, Massive, Omnisphere