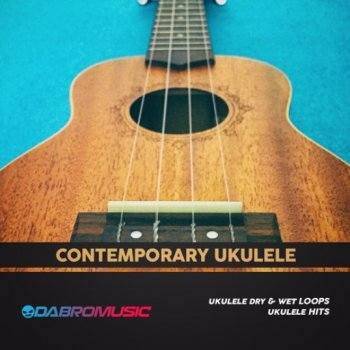 DABRO Music's "Contemporary Ukulele" is a beautiful set of electro-acoustic ukulele loops and samples containing sounds that will evoke emotions, bringing warmth and atmosphere to your tracks. Inside you will find real melodies, harmonies and chords in different genres with the unique sound of all the nuances of a live ukulele. You'll also get plenty of extra single chords and strokes to help you create a lively atmosphere in your tracks. This set is perfect for indie rock, hip hop, trip hop, blues, funk, downtempo, ambient and many other genres.
Content
24Bit 44.1KHZ
100 Ukulele Loops Dry
100 Ukulele Loops Wet
30 Ukulele Hits
Additional Information
DABRO Music has prepared a new amazing kit for lovers of live indie music – a beautiful pack of samples of electro-acoustic ukulele. Containing a lot of emotions, feelings, warm sound and atmosphere.
You will find authentic melodies, harmonies, and chords in different genres with an absolutely unique sound of all the nuances of living ukulele. You will also get lots of additional single chords and strokes that will help you to create a lively atmosphere in your tracks.
Contemporary Ukulele is a delightful collection of ukulele tunes from the composer and musician Kurmax which was recorded in his studio by means of the popular model's electro-acoustic ukulele and analog effects chains.
This pack sits perfectly in styles such as Indie Rock, Hip-Hop, Trip-Hop, Blues, Funk, Downtempo, Ambient, and many more.
Check out the demo track and download the free to use taster pack!
In detail expect to find 511 MB of content with 230 individual 24 Bit WAV files are included 100 Ukulele Loops Dry, 100 Ukulele r Loops Wet, and 30 Ukulele Hits.
Any references to any brands on this site/page, including reference to brands and instruments, are provided for description purposes only. For example references to instrument brands are provided to describe the sound of the instrument and/or the instrument used in the sample. Loopmasters do not have (nor do they claim) any association with or endorsement by these brands. Any goodwill attached to those brands rest with the brand owner. Loopmasters or its Suppliers do not accept any liability in relation to the content of the sample or the accuracy of the description. "RHODES" is a registered trademark of Joseph A Brandstetter.
511 MB
24Bit 44.1KHZ
100 Ukulele Loops Dry
100 Ukulele Loops Wet
30 Ukulele Hits