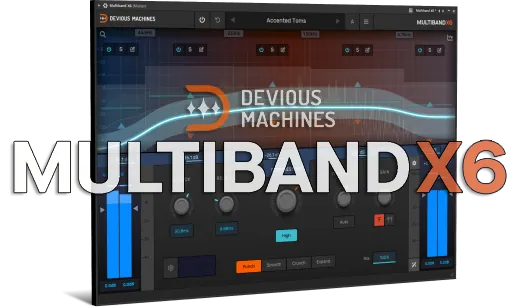 Multiband compression can be a daunting task for many users due to its complexity. Devious Machines recognized this challenge and set out to create a game-changing plugin that would make multiband dynamics processing more accessible and enjoyable, all while delivering the high-quality sound required by audio professionals. The result? Multiband X6.
Simplify Your Workflow
Multiband X6 supports up to six compression bands, but what sets it apart is its user-friendly approach. It features convenient tools like macro control and automatic threshold adjustment, allowing you to apply processing across all frequencies quickly. You can then fine-tune individual band settings as needed. Intelligent gain compensation and automatic level matching ensure consistent signal levels throughout your adjustments.
Versatile Compression Modes
Choose from three compression modes: Smooth, Crunch, and Punch. Each mode imparts its unique musical character and varying levels of aggressiveness. Punch mode even adds a touch of saturation to peak signals. While Multiband X6 can capture the sounds of classic compressor designs, it also offers a modern and distinctive sonic palette.
Advanced Tuning and Control
Multiband X6 goes further with advanced tuning options for increasing dynamic range when needed. Dive deeper into settings using the advanced settings window, accessed by clicking the gear icon. Here, you'll find processing modes (Stereo, Mid, and Side), sidechain options, filtering, linear phase mode, presets, and up to 4x oversampling.
A Versatile Workhorse
This plugin excels at various tasks, from leveling vocals and shaping drum sounds to putting the finishing touches on subgroups and full mixes. It's designed for low-latency performance and optimized to minimize CPU usage.
Key Features:
Up to Six Bands: Control every part of the frequency spectrum or use it as a single-band compressor.
Smart Gain Compensation: Maintain consistent levels as you apply compression.
Auto-Threshold: Automatically set thresholds for uniform compression across all bands.
Input-Output Match: Adjusts output to match input for accurate comparisons.
Configurable Crossover: 6-band Linkwitz-Riley crossover with adjustable slope and modes.
Mid/Side Processing: Shape stereo width and control mono elements independently.
External Sidechain: Precise sidechain ducking for each frequency band.
Lookahead: Reduce transients with up to 20ms of lookahead.
Up to 4x Oversampling: Achieve mastering-grade sound quality.
Professional Metering: Peak, true-peak, LUFS, and RMS metering for input and output.
Spectrum Analyzer: Real-time visualization of input and output spectra.
Experience Multiband X6
Multiband X6 by Devious Machines is set to redefine how you approach multiband dynamics processing. It simplifies complex tasks, offers versatile compression modes, and provides advanced control for all your audio needs. Elevate your sound with this groundbreaking plugin.
Note: Requires JBridge software for x86 selection to work.