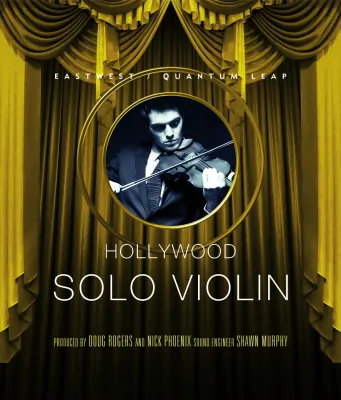 Recorded, engineered, and produced in Studio 1 at EastWest Studios, the EastWest Hollywood Solo Violin Diamond Edition is a virtual instrument with extensive articulations, 39GB of 24-bit samples, and five independent mic positions. By recording in a professional studio, EastWest delivers superior sound quality and attention to detail, ideal for realistic orchestral compositions. Hollywood Solo Violin supports operation as a standalone program or as a plug-in within your Mac- or Windows-based DAW, plus it integrates smoothly with other titles in the Hollywood Orchestra series.

---
Recorded in Studio 1 at EastWest Studios
Engineered by Shawn Murphy
Produced by Doug Rogers and Nick Phoenix
Array of articulations—some are presented as separate instruments in PLAY's Browser view, while others are accessible via a key-switch instrument (where multiple articulations load as one instrument and pressing a key triggers a different articulation)
Sonically compatible with large ensembles in other Hollywood Orchestra titles
Samples from five independent microphone positions (close, close vintage, mid, mid vintage, and main) that can be mixed together to achieve control over both acoustic vantage and spaciousness of the sound
Dynamics and vibrato depth are linked together on the Mod Wheel (CC1)
Legato Sus Slur combines the legato and sustain articulations into one sample layer, allowing for more continuity over the duration of a note
Compatible with AAX Native, Audio Units, and VST plug-in formats
Further reading
I posted an archive because otherwise the size of the torrent becomes unacceptable. There are 45 thousand files in the archive.