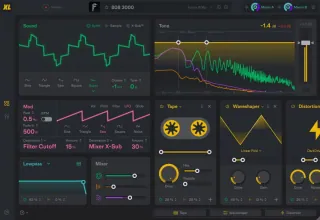 Each time the strongest blow a sub-bass.
A new class of synthesizers designed for hip-hop, future bass and trap genres. Create powerful 808-style sub-bass that will sound powerful on every speaker, every time.
808 basses and more
→ Everything you need to create a powerful and punchy sub-bass in minutes.
→ Sample, layer, expand and distort any beat into spectacular subs.
→ Simple mixing process for superior sound in any sound system.
Introducing X-Sub™ Technology
→ Our New Psychoacoustic Bass Generator.
→ Get consistent, accurate and deep subs when playing any bass note.
→ Recently invented and only available in a sublab.
Filled with sounds
→ 250 samples from high quality modular and classic analog drum machines.
→ Comes with 6 branded bass kits.
→ Drag and drop your own samples into the sampler.
Add. Information : Includes plugin – SubLab v1.1.9 U2B macOS-TRAZOR from 11/24/2022
as well as Additional sound library – Future Audio Workshop SubLab Pack Bundle (Patches) from 12/25/2022 (installed separately)
It includes the
Richie Souf: Red collection
DECAP – 808s That Knock
Richie Souf: Vol. 2
Hits DNA: Vol. 2
Hits DNA: Vol. 3
Crushed II
Installation included
Future Audio Workshop SubLab Pack Bundle
Richie Soof: Red Richie Soof, producer of the iconic tracks Future, Young Thug, Gunna and Playboi Carti, has created another set of 9,808
exclusively for SubLab.
DECAP – 808s that thump DECAP brings over 30 knockout 808s and sub basses to the sub-lab. Sound design by DECAP.
Richie Suf: Vol. 2
Stepping out of the studio after producing Future's latest EP, Richie Suf creates 10 hit-ready sub-bass sounds custom-designed for SubLab.
DNA Hits: Volume 2
You get 15 decent hit 808 subs that you can use right out of the box or make your own in minutes. Carefully recreated from tracks by DaBaby, Megan Thee Stallion, A$AP Ferg and many more. Sound design by Traptendo aka Ave Macri.
DNA Hits: Vol. 3
The third installment in the Hits DNA series recreates 17 iconic basslines from hit tracks by Travis Scott, Pierre Born, Rick Ross and more. Sound design by IMAMUSICMOGUL.
Squashed II
A collection of 15 crunchy, noisy, heavy, squashed, distorted sub-sounds for your tracks. Developed by FAW's own company.
Divine Bass II
The second part of the Divine Bass series are 10 masterfully mixed subwoofers, ready to be used on your next track. Sound design by trap, hip-hop and future bass producer, sound designer and mixing engineer Sean Devine.