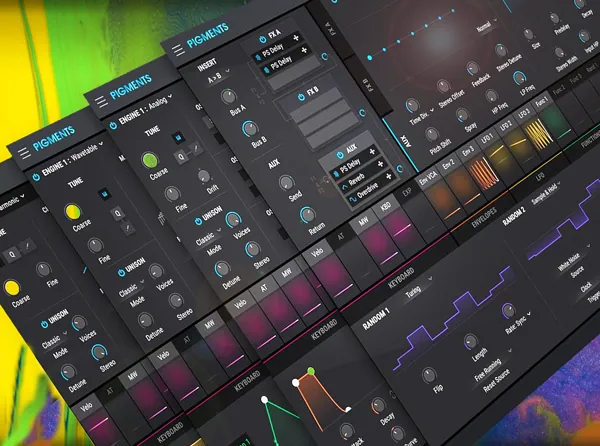 Studio wiz Thomas Cochran presents in-depth Arturia Pigment video tutorials! This plugin is a sound designer's dream, and this course will teach you how to harness its formidable sonic prowess and bend it to your will. Thomas demonstrates many effective concepts and techniques with a series of real-world applications, so you'll be able to put your newfound skills to work right away! These videos are for those who already know their way around Arturia Pigments. If you are new to Arturia Pigments, start with Arturia Pigments Explained® here first.
Thomas welcomes you and starts off by demonstrating how to create several bass patches. First up is an analog-sounding bass stab patch utilizing the analog oscillators and filter models. Then discover how to use amplifier and notch filter modulation to build a distorted bass tone. A chomp bass and a wavetable house bass round out the section, illustrating the use of the function controls and amplifier envelope modulation, respectively, among other tricks.
Next, explore the world of keys and pads with five patches: textured keys (with multiple synth engines), underwater keys (created with two sample layers), ambient pad (utilizing Pigment's sampler), lo-fi synth keys (with several modulations), and synth Rhodes (twisting a one-shot Rhodes sample into a synthetic-sounding keyboard).
Throughout the rest of the course, you'll learn how to create two different lead sounds by using multiple delays, re-synthesizing audio material, and more. By the end, you'll be well-versed in the sound-designing aspects of Pigment and on your way to creating your own signature tones!
To see what's covered in these comprehensive Arturia Pigment sound design tutorials, and how they'll quickly have you shaping and bending the raw elements of sound as you see fit, see the individual Arturia Pigment video tutorial descriptions on this page. A vast ocean of sonic exploration awaits… watch "Arturia Pigments Sound Design Explained®" today!
Content
Chapter 1: Bass
1. House Bass (16:12)
2. DnB Bass (14:58)
3. Chomp Bass (14:25)
4. Wavetable House Bass (14:58)
Chapter 2: Keys & Pads
5. Textured Keys (13:44)
6. Underwater Keys (11:29)
7. Ambient Pad (16:25)
8. Lo-fi Synth Keys (11:50)
9. Synth Rhodes (11:53)
Chapter 3 :Leads
10. Deep House Lead Stab (14:46)
11. Vocal Lead (13:24)