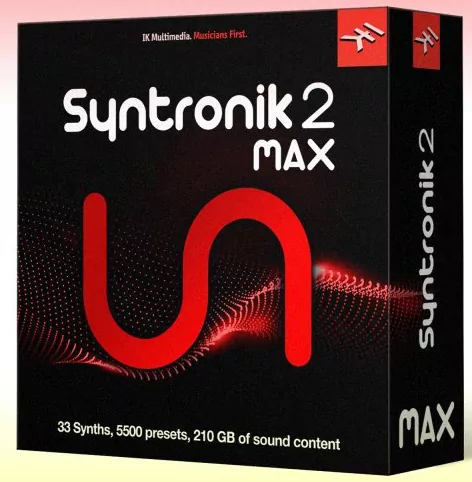 Syntronik 2 sets a new standard for modern virtual synthesizers. IK's advanced sampling techniques, combined with a hybrid sample synthesis and modeling engine, provide a vast collection of rare and sought-after synths with stunning sonic fidelity and in-depth editing. 33 instruments with over 5000 presets; multi-sampled oscillators for maximum authenticity; four emulations of classic filters; exclusive DRIFT™ technology that simulates the oscillators of real hardware synthesizers; the ability to layer up to four synth parts; four arpeggiators for creating complex rhythmic textures; an extensive arsenal of 38 high-quality effects; built-in browser for quick and easy navigation through presets; optimized resizable interface.
99, Blau, Bully, CATO, DCO-X, GS-V, Galaxy, Harpy 260, J-8, J-60 + Bonus Sound Content, Minimod, Noir, OXa, Polymorph, Pro- V + Bonus Sound Content,
SAM + SAM Bonus Sound Content, String Box, T-03 + Bonus Sound Content, V-80, KW-8000, M-12, M-Poly, Megawave, Memory-V, Modulum, OSC- V,
Obie One, PRO-VS, SH-V, SYNER-V, Sorcerer, Triptych, VCF3
Installation
1. Place the folder in any convenient place. 
2. Run SymLink DeInstaller.cmd as Administrator
3. Run SymLink Installer.cmd as Administrator 
4. In the Activator, perform automatic registration ( Automatic Registration (Windows) button ) of the Syntronik v2.0 product. Just in case, you can do the same for Syntronik v1.0,  SampleTank 3 & 4.
5. At the first start, the plugin will scan the system itself and add the available libraries to the database. If this does not happen, go to settings, add the following path and click Rescan All. 
6. If you already have libraries from Syntronik (the full version weighs ~ 210GB), you can not download them and uncheck the folder

Syntronik 2\C\Users\public\Documents\IK Multimedia\ Syntronik 2 . Or you can download these libraries from this distribution https://audiostorrent.com/ik-multimedia-sampletank-standalone-vst-vst3-aax-x64-syntronik-content/
Just before running the plugin, move them to the above folder.