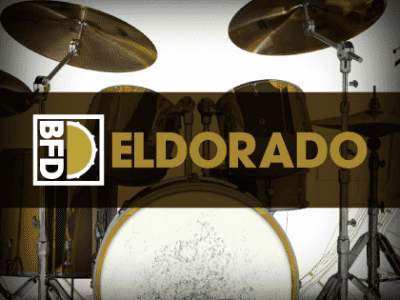 Library for the BFD 3.4 drum module (Featuring a set of 7 vintage and modern kits plus additional snare drums, kicks and cymbals , the sound of BFD Eldorado is ideal for rock and other genres)
Expansion for BFD3, BFD Eco & BFD2
The original BFD sounds that started it all!
7 premium vintage and modern drumkits
Additional 2 kicks and 8 snares
9 GB of 24 bit, 44.1 kHz audio
BFD Eldorado: the drum samples that started it all! This expansion pack provides all the great sounds from the original BFD library recorded at Eldorado Studios in California for your BFD3, BFD Eco or BFD2 installation.
With a suite of 7 vintage and modern kits as well as additional snares, kicks and cymbals, the sound of BFD Eldorado is perfect for rock and other genres that benefit from an organic, 'live' drum sound that's been used on countless records since the launch of the original BFD.
BFD Eldorado is also a perfect accompaniment to BFD XFL which is recorded using the same equipment and room at Eldorado Studios.
This is an updated library from inMusic Brands. The installer is original, with the exception of changing the serial number in one of the files to bypass the library activation later
Install the library
Launch BFD3, go to the Tools – Set up content locations tab
Press the Search Folder button and specify the folder with the installed BFD Eldorado library