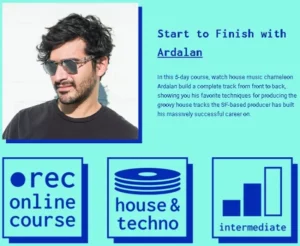 In this 5-day course, watch house music chameleon Ardalan build a complete track from front to back, showing you his favorite techniques for producing the groovy house tracks the SF-based producer has built his massively successful career on.
Course Outline
In this 5-day course, Ardalan will break down the techniques and hacks he uses in the studio to achieve his unique sound. An entirely self-taught producer, Ardalan's style utilizes tricks that many traditional studio engineers may frown upon. Join us on this sonic journey as Ardalan proves the age-old adage "if it sounds good, it is good."
Ardalan
One of the most exciting producers to come out of the Bay Area's house scene in recent memory, Ardalan (Dirtybird) has been traversing the line between rowdy, bass-driven bangers and complex, thought-provoking house and techno for a decade.
Content
Lesson 1 – Day 1 (11:54:55)
Lesson 2 – Day 2 (01:53:55)
Lesson 3 – Day 3 (02:08:53)
Lesson 4 – Day 4 (01:54:49)
Lesson 5 – Day 5 (36:44)