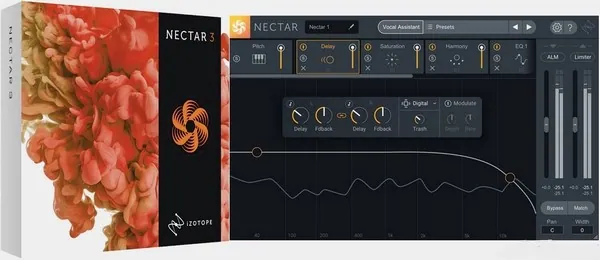 Vocals in the Mix Get your vocals into the mix with the most sophisticated set of tools designed to create vocals. From proofreading to creative vocal production to final polishing, Nectar 3 Plus brings out your intended performance in isolation and within the context of the mix. Improved Vocal Assistant: Unmask gives you new insight into how your vocals fit into the mix, with new EQ Amount and Dynamic controls that let you control masking easily and transparently. Put your vocals in their place with everything you need for a clean, professional sound.
Nectar Features
● Vocal Unmask :
Through the interaction between plugins, Vocal Assistant Unmask will help you place your vocals at the forefront of the mix by automatically removing other competing elements of the mix.
● Relay :
Adjust the gain, pan and width of any track in your session, giving you access to powerful features such as Neutron 3's Vocal Assistant and Mix Assistant. With Nectar 3 Plus, you'll have access to EQ Amount, Dynamic Mode and Sidechain while unmasking your tracks.
● Melodyne 5 Essential and RX Breath Control :
Nectar 3 also offers industry-standard Celemony pitch correction as well as world-class RX breath removal. Achieve the purest vocal recordings you've ever produced.
Changelog v3.8.0
Version 3.8.0: Released September 15,
 2022
Bug Fixes
 :
– Fixed a drop in sound that could occur when adjusting controls in the Saturation module if Warm mode was selected (affects Logic and Ableton Live running native on Apple Silicon Mac).
– Fixed a crash that could occur during processing if Nectar was included in the batch processor or module chain in RX Audio Editor.
Updates
 :
– Updated RX 8 Breath Control to version 8.6.0 with native support on Apple Silicon Mac.
– Updated the installation directory for HTML help files to the root level directory.
– Dropped support for macOS High Sierra (10.13) and macOS Mojave (10.14).