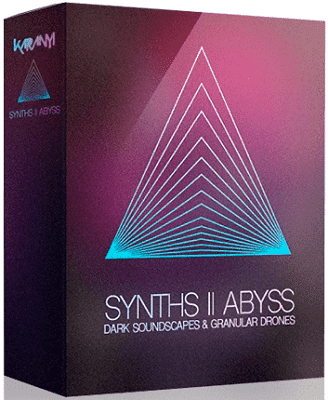 ABYSS is a designer bass collection focused on deep and atonal sounds created with classic and modern analog synths to create rumbling soundscapes, dystopian pads and character drones with real bass and depth. With tons of instrument presets and an updated Synths Engine 2.0, you get more flexibility and sound design options for your next movie, video game, ambient or any other music.

Full version of Kontakt 5.7.3+ required
---
---
Features
4 Analog Synth Sources
Cooking only from the finest ingredients: ABYSS includes high-quality patch samplings from 4 great classic and modern synthesizers from Oberheim and Moog. Bring 4 unique taste of bass for your next track!
190 Instrument Presets…
With ABYSS you get an exciting collection of designer bass presets from pure analog patches to distorted, glitched, resampled, granularized, stretched, reverbed, atonal presets recorded with a wide range of effect processors and hardware units.
…and 40 Multis
Get even bigger and wider sounds with multi instruments! Blockbuster drones, cinematic soundscapes… Get started with pre-designed multis or start creating your own multi-layered weapon set.
List of Instruments
Deep sampled, analog bass synth patches combined with tonal & atonal soundscapes using various granular sound design tools:
Moog Minitaur / Sub37, Oberheim Matrix 1000 / 6
90 Kontakt patches
3-4 octaves (low register)
Neve 88RS + Empirical Labs EL7 used for recording path
Eventide, Crusher X granular effect processors
2 layers / patch (original & effected)
Granular Library
Glitch Library
Scape Library
Multi Instruments
60+ multis using various patches from Scape, Glitch & Granular Libraries combined together to create more complex soundscapes & drones.
Single Waveform Layers
100+ original instrument recordings organized into patches without any software modification.
Summary
4 Synth Sources: Inspiring bass patches created on Oberheim Matrix 6 / 1000 & Moog Minitaur / Sub37
230+ Kontakt Presets: Made for fast and effective work: simple-to-use interface for Kontakt 5.7.3+
High Quality Recording: All samples are recorded in 24bit / 48kHz through UAD Apollo AD converters
Made in Los Angeles: Sound design, recordings, coding and design are made in Budapest & LA
Content Summary
2600+ samples
24bit / 48kHz sample rate
4.6 GB total size (9.2 GB uncompressed)
Recorded with Universal Audio Apollo 8p Preamp
Full version of Kontakt 5.7.3+ required
Royalty free license
Instrument Controls
Envelope selector with 3 Attack & 3 Release stages
6 Effects: Phaser, 80s Flanger, Leslie, Delay, Reverb & Ladder Filer (2 effects / Instrument)
2 SSL-style EQs: Bass Booster – Mid Attenuator & Mid Attenuator – Hi Booster combo
Pole wheel for soft sample group blending
Custom GUI with SYNTHS Engine 2.0
System Requirements
Windows 7 (latest Service Pack, 32-/64-bit), Intel Core Duo or AMD Athlon 64 CPU, 2GB RAM.
Mac OS 10.7 or higher, Intel Core Duo CPU, 2GB RAM.
10 GB free disk space for complete installation.
Full version of Kontakt 5.7.3+ required
Important Note: The Full Version of Kontakt 5 is required in order to run this software.