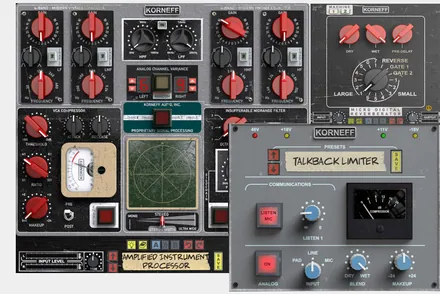 Description
"The other side of sound"
We make audio plugins that will help you get great records and stand out from the crowd. Lots of characters, lots of customization and fun to use…
Short Description of the package (All names are clickable, with a transition to offsite):
Amplified Instrument Processor v1.2.1
 : Complete multi-purpose channel strip – Amplified Instrument Processor is a complete set of instruments designed to help you create the perfect guitar, bass or keyboard sound. Its power and versatility make it an excellent processor for just about any audio task.
Micro Digital Reverb v1.0.2
 : Killer Reverb and Delay Effects – The Micro Digital Reverb combines amazing reverb and delay effects with a very user friendly user interface and controls. Insert it into the insert, select a preset and go. Drums? Vocals? Synthesizers? Guitars? This little plugin will help you.
Pawn Shop Comp v2.2.1
: The Hybrid Tube Circuit Compressor – The Pawn Shop Comp 2.0 is a professional tool that will make a huge difference to the quality and impact of your mixes. It sounds great on any audio source and in almost any application.
Talkback Limiter v1.2.1
 : Plugin Aggressive Limiter – Talkback Limiter is an aggressive limiter in your opinion. Carefully modeled after the real thing, our Talkback Limiter has the character and anti-social tendencies that have made it so popular for drums.