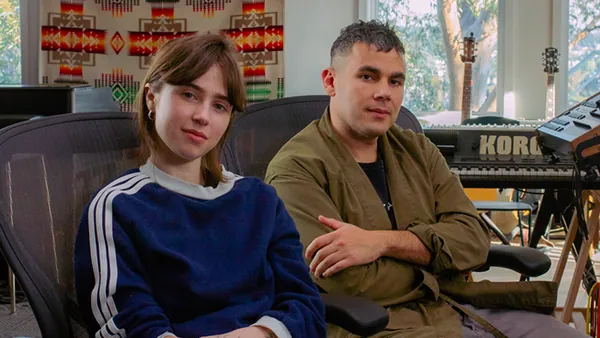 Watch Clairo and Rostam's breakdown of Clairo's inspirational indie pop hit "Bags".
Surrounded by sunlight in Rostam's studio in Los Angeles, the two musicians look back on their experience working together on Clairo's genre-changing debut album Immunity. Their creative chemistry is present throughout the series as they unpack the original ProTools session for the album's alternative pop single. Together they talk about Clyro's vocal and instrumental performance while working on the demo, as well as some of the outlandish production methods used by Rostam to enhance the song's simple structure.
The release covers not only the technical details, but also some of the complex psychological aspects of working on a record. Talking about the recording process, the duo talk about the importance of building confidence and trust in the studio, as well as the importance of trusting your instincts in times of need.
It all ends with a conversation about the finishing process. Klairo and Rostam discuss how they chose a team of mix engineers who inspire them, and how they distributed different songs to different engineers to create an album that is diverse, adventurous and unique.
Content
1. Songwriting process, demo recordings, drum production, envelope control
2. Vocal tracking, harmonies, reverbs and effects, decision-making, elevating the chorus
3. Creative guitar effects, drawing inspiration, piano theme, making decisions, preserving the magic, relationships in the studio
4. Creative direction, collaboration, selecting a mix engineer, combining genres
There are subtitles in Russian, English and Spanish.