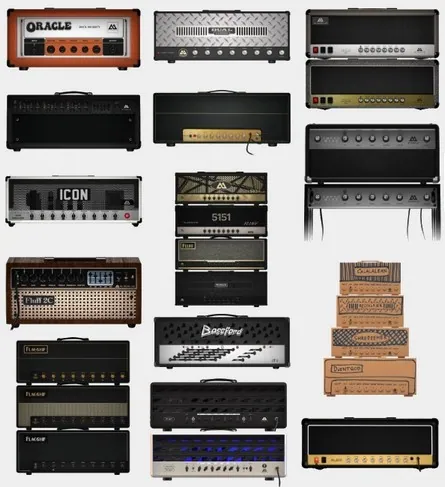 ML Sound Lab is a software company a guitar software company that produces premium amp modeling plugins called "Amped", next generation cab modeling plugins called "MIKKO", and the purest and most authentic impulse response (IR) capturers on the market.
Amped Ark
 : Full high gain and pristine clean tones from the USA.
Amped Bass
 : A bass guitar plugin with instant professional bass tones.
Amped Burger
 : Two of the most powerful high gain tube amps from Germany.
Amped CB4
 : A reliable Chris Baseford (Nickelback, Shinedown, Daughtry) amp that suits every genre.
Amped Dual
 : America's most iconic modern high-gain tube amplifier.
Amped Flagship 2.0
 : Three hot British tube amps designed in the USA.
Amped Fluff 2C
 : A custom Californian guitar plug-in from Ryan "Fluff" Bruce.
Amped GNR
: Two ultra-rare limited edition British tube amps from 1987 and 1996 with an American hard rock sound.
Amped Humble
 : The most legendary pure sound.
Amped ICON
 : A reimagined high gain classic guitar plugin.
Amped ML Plexi
 : A vintage British guitar amplifier used by Jimi Hendrix, Jimmy Page, Angus Young and Eddie Van Halen.
Amped ML5
 : 9 California amps in one guitar plugin.
Amped ML800
 : The most famous tube amplifier in the world in 1987.
Amped Oracle
 : Ideal for punk rock with stoner rock and doom metal.
Amped Roots
: Four of the finest amps from Ryan "Fluff" Bruce's personal collection.
Amped Stevie T
 : Four custom amps co-designed with Steve "Stevie T" Terreberry.
Amped Super Duper
 : A brand new state of the art British high gain amp.
Amped VX30
 : Two classic British combo amps, one from the 1960s, the other from the early 1990s.