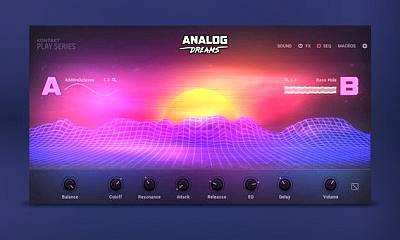 Classic synthesizers with a modern touch!
Do you want to recreate the atmosphere of the new wave of the 80s or add a retro touch to your modern tracks? This is your instrument. ANALOG DREAMS combines vintage synth sounds and adds creative effects to create original modern patches. Awaken new ideas with amazing bass; rich soft pads; percussion sounds and unusual effects. Just select your sound sources, then mix and tune to get the synth tones of your dreams.
When inspiration comes, just play. The Play Series instruments deliver outstanding sound quality in an easy-to-use interface. Each one has a distinctive sound and character, offering a wide selection of carefully designed presets and controls for modifying them. Whether you are a production newbie or a seasoned pro, Play Series can inspire new music for you!
Specifications
Analog sounds from vintage synths from the 70s, 80s and more
Mixed samples creatively processed for unique results
Ready-made presets in an optimized interface
Part of the Play series: great-sounding presets and real-time control in an intuitive interface
New in version
2.0.3 – 2021-09-21
FIXED Issue where attempting to load certain effects resulted in loading a different effect, after loading a snapshot.
FIXED Issue where stopping host transport during a long note while sequencer is running would result in hanging notes.
FIXED Any patches using Tape Saturator effect in HQ mode have the HQ mode disabled now (in order to prevent audio cut-outs and pops).
FIXED Pop on note release in Hyperspace snapshot.