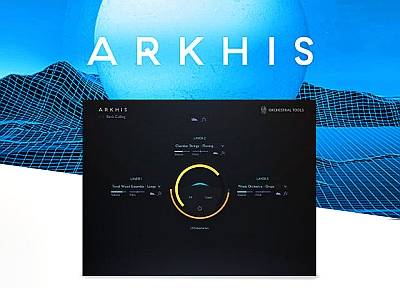 Cutting-edge, modernist composition.
Quickly create powerful atmospheric scores for any project
90 layerable, contemporary sound sources recorded at Berlin's legendary Teldex Scoring Stage
Created in collaboration with instrument pioneer Orchestral Tools
Large screen– Whether it's gritty neo-noir fantasy or good fantasy, accentuation is the finishing touch that can make or break a cinematic experience. ARKHIS is a dedicated scoring tool for cutting-edge orchestral soundtracks that bring scenes to life. Created in collaboration with Orchestral Tools, it combines a premium sample library with an easy-to-use layering engine
Create a stage with sound– Layer a huge array of tonal playable instruments to create everything from evolving transitions to quick accents for on-screen action. An extensive collection of orchestral and ensemble sounds provide the accompaniment, while solo instruments give their closeness a more subtle sense. Less conventional Hollywood-style sounds like waterphones and cymbals are great for ethereal and sometimes cramped textures when the story needs it. Recorded on the legendary Teldex Scoring Stage in Berlin, each sound source reflects the contemporary frontier ubiquitous in modern cinematic scores.
straight to the picture– ARKHIS is designed to turn writing into a workflow that allows you to focus on what's important – compelling storytelling. Change instrumentation with a single click, dial in effects, and play final passages in real time. Quickly accentuate dynamic changes in action and recall themes in subtle new ways as the narrative progresses.
engine– ARKHIS is built around a central playback module that can be quickly and easily used from any MIDI controller. Choose from 90 audio sources to assign three independently modulated layers that can be layered from left to right using a single morph control. Pick up movement and complementary colors in real time with the central LFO and FX control for subtle building in atmosphere or for creating variations on an entire scene.