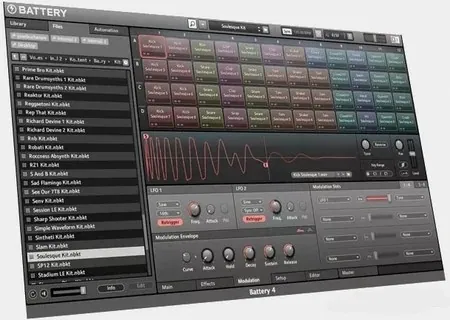 process for maximum creativity. Supercharged library for electronic and urban styles. Inspiring effects, intuitive routing and sidechain.

Characteristics
SAMPLE THE FUTURE :
BATTERY 4 is the cutting-edge drum sampler the world's studio's choice for creating creative beats.
BOOST YOUR RHYTHMS :
BATTERY 4 combines an updated library with a radically intuitive workflow that keeps the focus on creativity. With a clear and compelling interface, BATTERY 4 launches drum sampling into the future.
LOUD LIBRARY :
The 143 kits in the BATTERY 4 library are focused on electronic and hip-hop production. 70 brand new kits join all-time favorite BATTERY kits redesigned for modern production. Find your drum sound with the easy-to-use tag-based browser, drag and drop it into a slot, and start playing.
LIBRARY Battery 4 Factory + Battery Now
How to register?
0.Uninstall previous versions.
1.Install the software.
2.Go to "%COMMONPROGRAMFILES%\Native Instruments\Service Center\".
If the "NativeAccess.xml" file is not there, copy the included "NativeAccess.xml" file there.
If "NativeAccess.xml" is there, check its size.
If yours is smaller than the one included, copy ours (yours must be the old one).
---
Tech note for plug-in enthusiasts
Older NI products used RAS2 (ECDSA) for security at one time.
They now use RAS3 (JWT/RS256) as their modern licensing solution.
In "NativeAccess.xml" there is information about which product/version is using RAS2 and RAS3.
If this information is out of date, some updated products will not work as intended by NI.
A legal NI user uses NativeAccess to install/update software,
which means that legal users always have the latest "NativeAccess.xml" file on their computer.
---
3.Register with our keygen.
4.Enjoy!