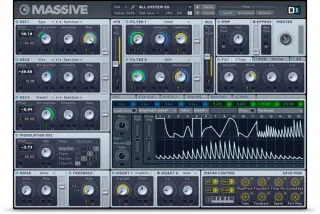 Native Instruments MASSIVE is a true sonic monster, renowned as the ultimate synthesizer for bass and lead sounds. It masterfully combines analog principles with cutting-edge sonic capabilities, resulting in a sound quality that exudes both vintage warmth and modern precision. Its user-friendly interface ensures that you can harness MASSIVE's earth-shaking sounds right from the moment you start creating.
Key Features:
Integrated KoreSound® Browser: Managing KORE-configurable presets is a breeze, thanks to the integrated KoreSound® Browser. It streamlines your preset management process.

Quick Search and Filtering: Finding the perfect preset is effortless with quick search and filter functions that let you narrow down options based on specific characteristics and attributes.

Ideal for Live Performance: MASSIVE comes equipped with features tailored for live performances, making it a versatile tool for musicians on stage.

Step Sequencers and Effects: Integrated step sequencer sections and a rich array of effects provide flexibility and creative potential. The modulation options are highly adaptable to your needs.

Convenience and Ease: Designed for user convenience, MASSIVE is just as at home on stage as it is in the studio. Intuitive controls and dynamic value indicators simplify sound shaping.

High-Quality Sound Engine: The sound engine in MASSIVE sets a new standard for quality and performance, delivering pristine audio even with the most complex sounds.

Wave Scanning Oscillators: With its Wave Scanning Oscillators, MASSIVE effortlessly generates both analog and digital sonic textures, expanding your sonic palette.

Innovative Sound Design: Create unique sounds with ease, whether you're a beginner or an expert. Drag-and-drop modulation assignment and intuitive features make sound design a breeze.

Integrated Effects Sequencer: Explore a world of sonic possibilities with 17 master effects and sequential effects, integrated seamlessly into your workflow.

KoreSound™ Integration: MASSIVE seamlessly integrates with the KoreSound™ format, ensuring transparent KORE integration.

Extensive Sound Library: Access a wealth of presets with the KoreSound™ Browser, featuring 600 KORE-configured sounds.

Perfect for Live Performance: Advanced sequencing and remote access features make MASSIVE an excellent choice for live performances.
What's New in Version 1.5.12 (Released on 2023-03-09):
System Requirements Update: The minimum required operating systems are now Windows 10 and macOS 11.
AAX Apple Silicon Support Added: Enjoy enhanced compatibility with AAX on Apple Silicon-based systems.
Browser Enhancement: Selected items in the browser are now shaded correctly for improved visibility.
Native Instruments MASSIVE is your go-to synthesizer for crafting basslines and lead melodies that stand out. With its blend of analog warmth and cutting-edge capabilities, it offers a world of sonic exploration for musicians and producers alike. Upgrade your music production toolkit with MASSIVE and unlock a universe of creative possibilities.