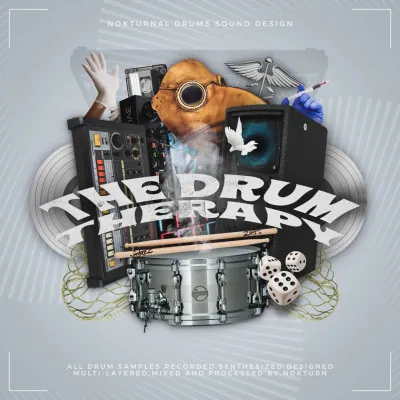 • 82 new original drum samples (claps, hi-hats, drum loops, kicks, percussion, snare drums, etc.) in format 24bit/48.wav.
• All samples are recorded, synthesized, created from scratch, layered, mixed, processed using analog equipment and professional nokturnproducer software.
• Compatible with any DAW (FL Studio, Reason, Ableton, Protools, Logic, etc.)
• All sounds are completely free (royalty-free).
[DTV1]_CLAP_01.wav
[DTV1]_CLAP_02.wav
[DTV1]_CLAP_03.wav
[DTV1]_CLAP_04.wav
[DTV1]_CLAP_05.wav
[DTV1]_CLAP_06.wav
[DTV1]_DRUMLOOP_01_90BPM.wav
[DTV1]
_DRUMLOOP_02_100BPM.wav ]_DRUMLOOP_03_89BPM.wav
[DTV1]_DRUMLOOP_04_72BPM.wav
[DTV1]_DRUMLOOP_05_80BPM.wav
[DTV1]_DRUMLOOP_06_80BPM.wav
[DTV1]_DRUMLOOP_07_80BPM.wav
[DTV1]_DRUMLOOP_08_81BPM.wav
[DTV1]_DRUMLOOP_09_82BPM.wav
[DTV1]_DRUMLOOP_10_84BPM.wav
[DTV1]_DRUMLOOP_11_90BPM .wav
[DTV1]_DRUMLOOP_12_92BPM.wav
[DTV1]_DRUMLOOP_13_99BPM.wav
[DTV1]_DRUMLOOP_14_100BPM.wav
[DTV1]_DRUMLOOP_15_93.5BPM.wav
[DTV1]_DRUMLOOP_16_106BPM.wav
[DTV1]_DRUMLOOP_17_178BPM.wav
[DTV1]_DRUMLOOP_18_84BPM.wav
[DTV1]_HH_01.wav
[DTV1]_HH_02.wav
[DTV1]_HH_03.wav
[DTV1]_HH_04.wav [D05.wav [ D05.wav
]
]_HH_06.wav
[DTV1]_HH_07.wav
[DTV1]_HH_08.wav
[DTV1]_HH_LOOP_80BPM.wav
[
DTV1]_HH_LOOP_90BPM.wav
[DTV1]_HH_ROLL_01.wav
[DTV1]_HH_ROLL_02.wav
[DTV1]_KICK_DTV02.wav .wav
[DTV1]_KICK_03.wav
[DTV1]_KICK_04.wav
[DTV1]_KICK_05.wav
[DTV1]_KICK_06.wav
[DTV1]_KICK_07.wav
[DTV1]_KICK_08.wav
[DTV1]_KICK_09.wav
[DTV1]_KICK_10.wav
[DTV1]_KICK_11.wav
[DTV1]_KICK_12.wav
[DTV1]_OH_01.wav
[DTV1]_OH_02.wav
[DTV1]_OH_03.wav
[DTV1]_OH_04.wav
[DTV1]_PERC_01.wav
[DTV1]_PERC_02.wav
[DTV1 ]_PERC_03.wav
[DTV1]_PERC_04.wav
[DTV1]_PERC_05.wav
[DTV1]_PERC_06.wav
[DTV1]_PERC_07.wav
[DTV1]_PERC_08.wav
[DTV1]_PERC_09.wav
[DTV1]_PERC_10.wav
[DTV1]_PERC_11 .wav
[DTV1]_PERC_12.wav
[DTV1]_PERCLOOP_80BPM.wav
[DTV1]_PERCLOOP_90BPM.wav
[DTV1]_SNARE_01.wav
[DTV1]_SNARE_02.wav
[DTV1]_SNARE_03.wav
[DTV1]_SNARE_04.wav
[DTV1]_SNARE_05.wav
[DTV1]_SNARE_06.wav
[DTV1]_SNARE_07.wav
[DTV1]_SNARE_08.wav
[DTV1]_SNARE_09.wav
[DTV1]_SNARE_10.wav
[DTV1]_SNARE_11.wav
[DTV1]_SNARE_12.wav
[DTV1]_SNARE_13.wav
[DTV1]_SNARE_14.wav
[DTV1 ]_SNARE_15.wav
[DTV1]_SNARE_16.wav