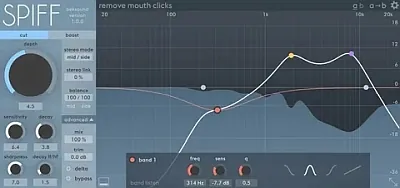 New adaptive transient processor!
Spiff allows you to reduce or increase transients (aka transients) with "extreme" detail. It analyzes the incoming signal and applies processing only to those sections that contain information about transients. The rest of the signal remains as it was originally.
Applications include softening speech, hard consonants, clicks, and "p" sounds. Enabling the "boost" mode turns the Spiff into a transient amplifier. It requires minimal configuration to work, but if you want to make certain improvements, then you can do this by adjusting the advanced parameters.
In addition, the visual part of the plugin is well designed for convenient control.