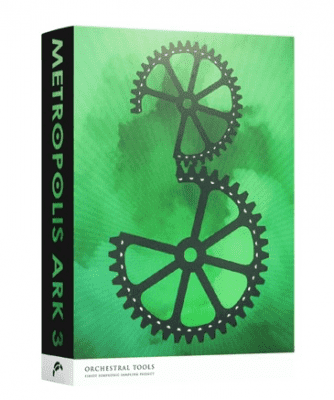 Metropolis Ark 3 – The Beating Orchestra
Metropolis Ark 3: The Beating Orchestra is the third part of our epic orchestral series. But is it percussion? Or is it an orchestra?
In fact, both of them are merged into one innovative whole: the percussion orchestra.

NI KONTAKT Player or Full version 5.8.1 and above is required!
---
---
The roars of giant machines pale in comparison to those huge Taiko Ensemble Kits and drums of doom. Where other percussion libraries draw the line, we take things to the next level with a colossal orchestra in the form of a percussion instrument.
Metropolis Ark 3 is the ultimate orchestral beat machine.
It combines a massive, rhythmically driven orchestra with the loudest and beefiest percussion instruments we have ever recorded.
All of which allows you to harness the combined power of the orchestra and the percussion to program rich, complex rhythmic patterns and gestures. The recorded articulations are designed so that these two parts dovetail perfectly. And the peerless consistency of the articulations means you will be able to play all the instruments together effortlessly for instant rhythmic inspiration.
Three truckfuls of percussion instruments and 111 musicians were used to make Metropolis Ark 3.
Highlights
Specifically designed for Epic Music
8 orchestral sections:
High Strings
Low Strings
String Quintet
Trumpet Ens
Horn Ens
Low Brass Ens
Low Woodwinds Ens
High Woodwinds Ens
Taiko Ensembles and Taikos of all types and sizes, including a 60-inch monster Taiko, all played by WADOKYO
A huge set of epic percussion ensembles and individual instruments played by Hamburg-based Elbtonal Percussion with a broad cross-section of instruments in all ranges.
We even added an ensemble of three sets of Timpanis and a Cluster Staccato and FX Grand Piano
Recorded at the Teldex Scoring Stage in Berlin