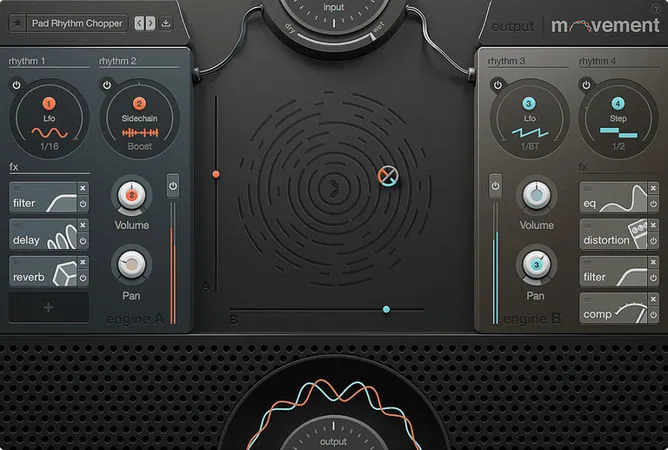 Experience the future of music production with Movement, an innovative and potent effects engine that infuses captivating rhythms into any audio input in real-time. Whether you're working with guitars, keyboards, synths, pads, drums, or full mixes, Movement offers an unparalleled creative tool designed to elevate your music to new heights. Developed by the creators of EXHALE, SIGNAL, and REV, this plugin is your gateway to expanding the sonic possibilities of your compositions.
Powerful Rhythms:
At the core of Movement lies its ability to transform ordinary sounds into compelling rhythms. With over 300 presets at your disposal, you can effortlessly integrate mesmerizing rhythms into your music. Whether you prefer to tap into existing beats or craft your rhythms from scratch, Movement's intuitive XY pad allows for real-time tweaking and experimentation. Play with it live, automate it within your DAW, or find the perfect fusion of your original input and rhythmic elements. No matter how subtle or wild your tempo-driven rhythms may be, Movement ensures they remain inherently musical.
The Engine Behind the Magic:
Movement's magic is powered by a combination of the original sound source and four distinct rhythm engines. Each engine features sidechain-based modulation, LFO, and a step sequencer, complemented by Output's patented Flux and Randomizer. Moreover, you have access to a staggering 76 parameters for modulating and adding movement to your sound. From dynamic reverb and compressors to sweeping analog filters, EQ adjustments, evolving delays, tube distortion, and dynamic signal shaping, Movement offers an extensive palette of possibilities. Thanks to the initial source split, you have full control over the intensity and presence of the rhythmic elements.
Extended Sidechain Modulation:
One of Movement's standout features is Extended Sidechain Modulation, allowing you to modulate up to 38 individual parameters using an input source. Beyond the traditional kick/compressor sidechain pairing, you can now harness this input to modulate filters, reverb, distortion, EQ, delays, and more simultaneously. This opens up endless creative avenues for sound manipulation and rhythmic integration.
Intuitive and Powerful:
Despite its immense capabilities, Movement is designed to be user-friendly and intuitive, ensuring a seamless creative experience. Whether you're tweaking existing presets or crafting rhythms from scratch, the possibilities are boundless. Let your creativity flow effortlessly, whether you're working in the studio or performing live.
New in Movement V1.1:

Reverse Delay Treble
Bass EQ Mode
Faster Boot Time with Reduced CPU Load
Key Features:
Over 300 presets for instant inspiration
Compatible with any sound, instrument, or track
Real-time modulation of any parameter with rhythmic precision
Utilizes sidechain, LFO, and step sequencer for rhythm modulation
Patented output stream and randomizer for unique sonic textures
Advanced sidechain modulation for simultaneous parameter control
Offers analog filters, EQ, delay, distortion, compression, and reverb effects
Performance-enhancing XY pad
Tailored for both live performances and studio productions