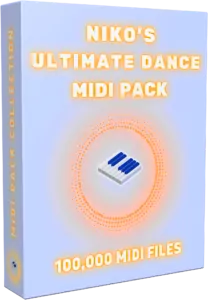 Get a whopping 100,000+ MIDI files reconstructed from the greatest dance hits of all time in the largest MIDI package ever created.
Access to dance music of a specific genre, including EDM, Disco, Upbeat R&B, Dancehall, Pop, Techno, Trance, Trap, House and Reggaeton.
Create radio tunes that will make your fans sing and dance all night
Make your music stand out by using and combining proven chord rhythm patterns to give your music an instant beat.
Speed ​​up your workflow and enhance your music with time-tested dance chord progressions that are guaranteed to sound good every time.
Gain an unfair advantage by having access to unlimited inspiration instead of using the same chord progressions over and over again.
Package contents Ultimate Dance MIDI package by Niko:
Over 100,000 MIDI files: melodies, chord progressions, arpeggios and rhythm patterns.
By genre: dance-pop, tropical house, dancehall, afrobeats, deep and future house, disco, upbeat R&B, future bass, progressive house and big room, slap house, trance, trap, techno and reggaeton.
All 12 keys included: workflow acceleration.
Drag & Drop MIDI: no need to install plug-ins – just drag and drop.
100% royalty-free: The only person who receives royalties is you.
Compatible with all DAWs: FL Studio, Ableton, Logic, Garageband, Cubase, Pro Tools, Studio One, Reaper, Mixcraft and more.
Compatible with all VSTs: Serum, Massive, Sylenth1, Keyscape, Kontakt, Omnisphere and more.
Chord Guide PDF Step by step guide: Breaking down hundreds of chord progressions and their emotional impact.
10,000 Dance-Pop MIDI files (worth $100)
10,000 Dancehall/Afrobeats MIDI files (worth $100)
10,000 Deep & Future House MIDI files (worth $100)
10,000 Upbeat R&B MIDI files (worth $100)
10,000 Future Bass MIDI files (worth $100)
10,000 Slap House MIDI files (worth $100)
10,000 Trance and Techno MIDI files (worth $100)
10,000 MIDI files Trap (worth $100)
10,000 reggaeton MIDI files (worth $100)