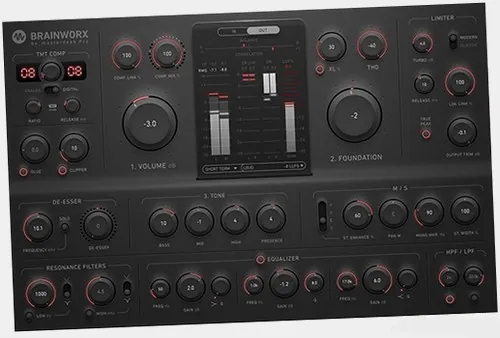 Introducing the Brainworx bx_masterdesk PRO, the all-in-one mastering solution that's taking the music production world by storm. Building upon the success of its predecessors, this upgraded version has been meticulously designed to meet the demands of both novice and seasoned audio engineers alike. With new features, powerful dynamics control, expanded tonal options, and an enhanced stereo field, the bx_masterdesk PRO is your ticket to achieving professional-grade mastering results with ease.
Enhanced Dynamics Control:
In the PRO version, we've supercharged the compressor and limiter with variable response times and linking options, giving you greater control over your audio dynamics. The limiter now features a "modern/classic" switch, while the compressor offers a variable ratio, CLIPPER option, and an all-new "GLUE" analog-style compression function. This GLUE function works wonders, smoothing out your mix before it enters the final mastering chain, ensuring a polished and cohesive sound.
Expanded Tonal Options:
We've taken the simple tone stack of the original bx_masterdesk and elevated it to new heights in the PRO version. Now, you'll find a fully functional 3-band parametric EQ at your fingertips. Additionally, high-pass, low-pass, and dual resonance filters have been incorporated, all boasting an extended frequency range. But that's not all – we've also included a built-in de-esser for precise control over your audio. For those craving even more tonal possibilities, the newly introduced XL section provides extra saturation, harmonics, and color to truly sculpt your sound.
Impressive Stereo Field:
Mastering engineers and producers, get ready for an even more impressive stereo field. The PRO version goes beyond its predecessors with new stereo enhancement modes not found in previous iterations. M/S (Mid/Side) features include a Mid Signal Panorama option and a Stereo Enhance knob, offering unparalleled control over stereo imaging and balance. Couple these enhancements with the Mono-Maker and Stereo Width controls, and you'll have all the tools you need to create a captivating, three-dimensional sonic experience.
User-Friendly and Advanced:
While the Brainworx bx_masterdesk PRO maintains its reputation for high-end tonal quality and a minimal learning curve, it now offers advanced controls that cater to the needs of more experienced users. Rest assured, even newcomers can quickly achieve exceptional-sounding masters in under a minute. It's as simple as switching between thoughtfully crafted presets and fine-tuning with three essential controls: Volume, Base, and Tone. The difference lies in the newfound ability to further refine these starting points, providing you with extended control over dynamics, EQ curve, saturation, and stereo field when the need arises.
Key Features at a Glance:
High-quality analog mastering chain in a single plugin.
Streamlined three-step workflow for easy mastering.
Includes limiter algorithm and meters from bx_limiter True Peak.
Adjustable link parameters and release times for compressor and limiter.
Fully adjustable Compressor Mix control.
Additional models of TMT compressors.
CLIPPER for taming loud transients.
GLUE analog-style compression for a polished mix.
Extensive library of presets for instant results.
Advanced parametric equalizer.
New stereo gain controls.
XL knob for added harmonic saturation.
Enhanced graphical interface for effortless management.
Tolerance Modeling Technology (TMT) with analog and digital modes.