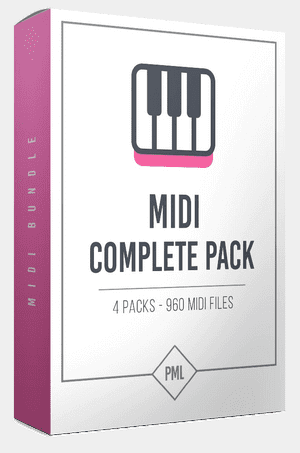 A professional MIDI package including over 240 quality MIDI files that we have created for our harmony and chords course, as well as for our own compositions and Youtube tutorials.
A professional NEW FUTURE BASS MIDI Pack containing over 350 quality MIDI files that we have created along with our Youtube productions and tutorials. Save valuable production time with these 90 bpm ready-to-use chords, leads, hi-hats and snares.
Professional Chord Progression MIDI Pack The package includes over 167 pre-designed chord progressions for all types of moods and songs, as well as over 220 quality MIDI files. This pack also includes more complex chord progressions using notes outside of a certain scale (borrowed notes), resulting in a very addictive character.
A professional NEW Melodic Techno MIDI file set (now available in version 0.9) containing over 150 high quality MIDI files created along with our works and tutorials on Youtube.
Save valuable production time with these ready-to-use 120 bpm arpeggios, progressions and plucks.
The package contains about 950+ high quality MIDI files, including chord progressions (pads), plucks, arpeggios, leads, drums, snare drums and midi basses.
You don't need to install any special software. MIDI Pack works with any DAW.
MIDI files are organized and named in two main keys: A minor and C major. Therefore, they are very easy to use and combine. Feel free to transpose any Midi file to suit your needs (select all midi files and press the up/down arrow key on your keyboard).