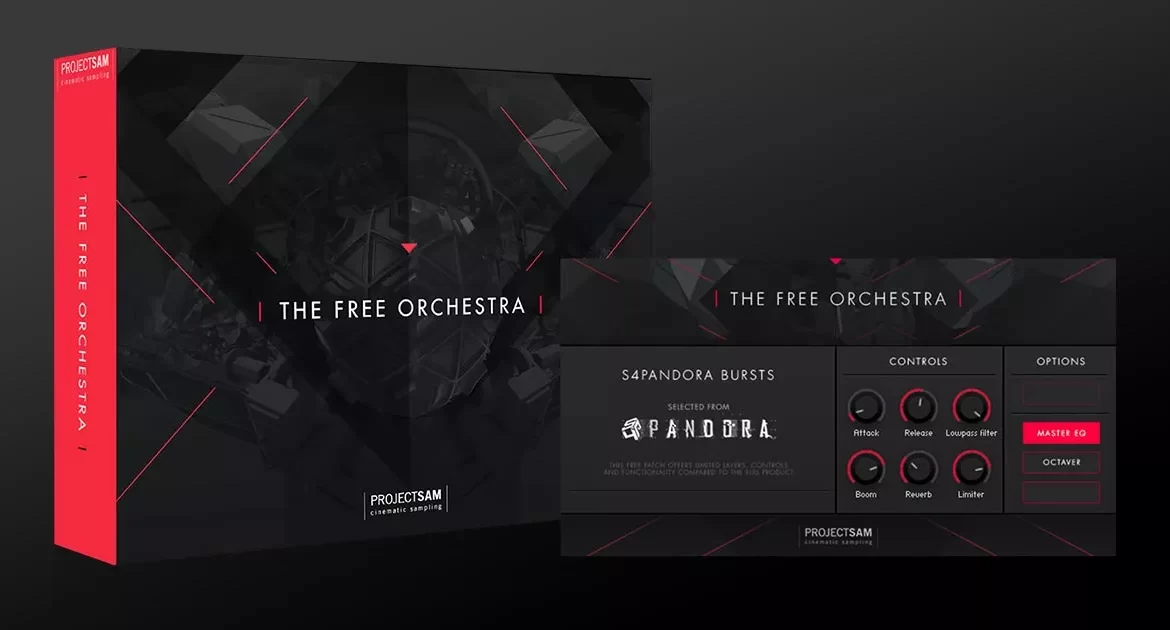 12 free sets of cinematic sounds taken directly from the ProjectSAM catalog

Full version of Kontakt 5.6.8 or higher required
---
---
TFO – # 12: Luminous Choir
Warm and soothing choir swells, performed by 6 altos, 6 tenors and 6 basses in the lush environment of the Symphobia concert hall.
TFO – # 11: Tongue in Cheek
Pay homage to the golden age of cartoons with this month's light-hearted & witty ensemble instrument featuring clarinet, double bass, piano and "wah" trumpet.
TFO – # 10: S4Pandora Bursts
A big & bold diminuendo brass ensemble taken directly from the newly released Symphobia 4: Pandora
TFO – # 9: Short Strings
Cinematic ensemble string staccatos
TFO – # 8: Dystopian Drones
Dark, disturbing drones made from the original Symphobia recordings.
TFO – # 7: Power Strike
Cinematic percussion kit featuring orchestral gran cassa, snare ensemble, cymbals and effects.
TFO – # 6: Bombastic Basses
Dark cellos and contrabasses with epic orchestral accents.
TFO – # 5: Wild Winds
An enigmatic, yet cinematic set of woodwind effects feat. flute, oboe, clarinet, bass clarinet, bassoon & contra bassoon.
TFO – # 4: Heroic Horns
An epic, 8-player French horn section, perfect for playing grand, heroic themes
TFO – # 3: Ghostly Clusters
Eerie, otherworldly string, brass & woodwind effects, ready to send a chill through your spine… and that of the audience!
TFO – # 2: Sordino Violins
Warm, lush, muted violins, perfect for dramatic underscoring and gentle ballad arrangements.
TFO – # 1: Tutti Hits
Cinematic, orchestral hits, taken from the legendary Symphobia recordings. Ready to be used in your very next action, ghost or horror score.