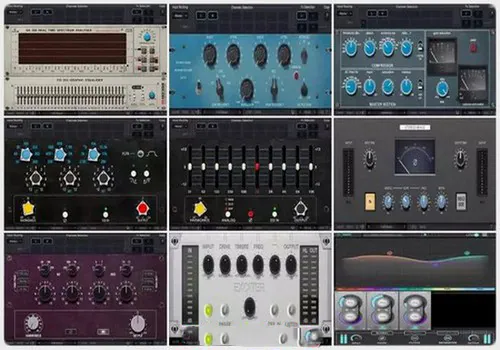 🎛️ Red Rock Sound presents a comprehensive collection of FX and Instrument plugins that will take your audio production to the next level.
FX Plugins:
RRS AQ550 v3.0.0: Craft the perfect tone with precision using this versatile equalizer.
RRS AQ550b v3.0.0: Fine-tune your audio with this powerful parametric equalizer.
RRS AQ560 v3.0.0: Achieve sonic perfection with this graphic equalizer.
RRS Bass Enhancer v1.0.3: Give your basslines the boost they deserve.
RRS BQ-A v3.0.0: Shape your sound with this top-notch equalizer.
RRS Comp 609 v3.5.0: Achieve dynamic excellence with this compressor plugin.
RRS EQ3 v2.0.0: Sculpt your audio with precision using this 3-band equalizer.
RRS EQP-1A v1.5.1: Vintage warmth and character at your fingertips with this classic equalizer.
RRS Exciter v1.0.2: Add excitement and sparkle to your audio with this exciter plugin.
RRS Fuse Stereo Image v1.0.0: Expand your sonic landscape with this stereo imaging tool.
RRS SA360 v1.0.0 (new): Explore new creative horizons with this innovative plugin.
RRS uniQ v1.0.3: Unlock unique sonic possibilities with this versatile equalizer.
VSTi Plugin:
RRS Ivoks v1.0.0: Dive into the world of synthesis with this virtual instrument.
FREE Plugins:
RRS EQ302 v1.0.2: Shape your audio for free with this equalizer.
RRS EQ560 FREE v1.0.3: Enjoy the benefits of this free graphic equalizer.
RRS HLF-3C v1.0.0: Enhance your audio with this complimentary plugin.
RRS SA60 v1.0.2: Explore creative possibilities with this free addition to your toolkit.