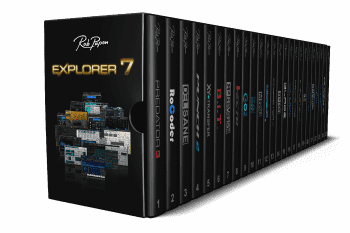 This inspiring pack contains 27 RP products if you turn on the amazing Prisma! which you can request after registering your package.
SubBoomBass, Blade and Punch presets are also available for you to fully enjoy Prisma.
What is inside
Predator-3 – Hybrid Power Plant!
RoCoder – vocoder and more!
DelSane – The coolest Delay in this Galaxy!
RP-Distort 2 – PowerHouse Distortion FX with Disrupt Sphere!
Punch 2: Powerful drum machine with synthesis and samples.
BLADE-2: advanced additive synthesis and more.
Quad: PhaseDistortion and WaveShaper synthesizer.
XY-Transfer: XY-modulation FX multiprocessor.
BIT: The Ultimate Virtual Analog Synthesizer.
Vecto: A vector synthesizer with four oscillators.
Go2: Constraint Power Synthesizer.
RAW-Kick: Sharp kicks for modern dance music.
MasterMagic: Adds a touch of magic to your mix or master.
SubBoomBass 2: The ultimate bass synthesizer.
BLUE-II: Cross-fusion fusion at its finest.
RG: Electric and acoustic guitar grooves.
RP-VERB 2: The most intriguing thing about RP-VERB 2 – along with great sound – is the new Reverser section!
RP-EQ: Silky smooth channel sound and EQ for mastering.
Punch-BD: Based on the BD module of the award-winning Punch virtual drum synthesizer.
RP-Delay: Delay madness. Reverse, 6 lines, 8 filters, 4 LFOs and more.
RP-Distort: A Wicked FX effects block that will distort or alter your tracks.
RP-Amod: Bring your vocal track to life, bring your instrument to life, and even boost your drums.
RP-Reverse: Creatively reverses incoming audio.
RAW: State of the art EDM synthesizer with an emphasis on distorted sounds.
Predator-2: Available to download your songs using Predator 2.0.
Predator 1.6: Available to download your songs that use the original Predator.
PredatorFX: Plug-in for filters, modulation, vocoder and effects based on Predator 1.6 (also included)
Prisma: Get creative with Rob Papin's approach to layering instruments.
---
NOTE : Inside this pack is also the original Predator, SubBoomBass, Punch and Blade compatible with your old songs and Prisma!
Quote
CRACKED: To bypass a hard-coded SHA1 sequential hash check that cannot be reverse-calculated.
C&R KeyGen is true. This works well for legitimate users too!
REPACK: Fixed regkey names for "VST Path" value for some plugins. VST3 should now load normally. We fixed this issue with the installer once, but made it worse by fixing other bugs, sorry ;(
We also fixed the NKS filename issue for some plugins to remove duplicate files.
---
NOTE : Their VST3 and AAX are just VST2 wrappers.