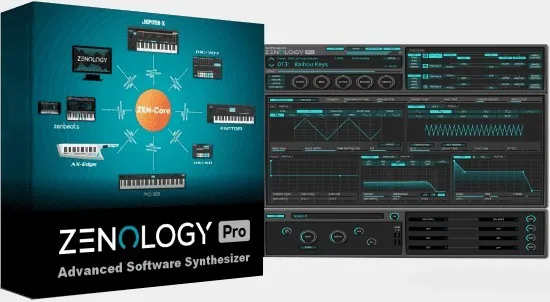 Synthesizers are present in almost all styles of modern music, so you need something universal, authentic and forward-looking.
ZENOLOGY embodies over 50 years of synthesizer research and development. Its roots go back to the era of the birth of synthesis.
Its future will change your relationship with sound.
Characteristics
Over 4,000 sounds and 200 drum kits, easily expandable to over 10,000 options.
Compatible with sound packs and wave extensions available on Roland Cloud.
Advanced Voice Browser for exploring sounds, marking favorites, and creating custom banks.
Powerful synth architecture with four partitions per tone, each with flexible oscillator, filter, amplifier, dual LFO and EQ.
Multiple synthesis types overlay, including advanced virtual analog and state-of-the-art PCM.
Four oscillators with nine virtual analog waveforms, Supersaw, Noise, PCM and PCM SYNC.
Includes 1840 PCM waveforms easily expandable to over 7000.
Ten filter types including JUPITER and other iconic models.
Eleven LFO shapes, including tempo-synced Step LFOs with 37 curves per step.
Over 90 luxurious Roland effects, including pristine reverbs, JUNO-106 and CE-1 choruses, SDD-320 Dimension D and DJ-FX Looper.
A modern, resizable user interface ensures a smooth workflow in any production environment.
Edit and share sounds between ZENOLOGY Pro and ZEN-Core hardware instruments such as FANTOM, JUPITER-X, JUNO-X, RD-88, MC-101, MC707 and more.