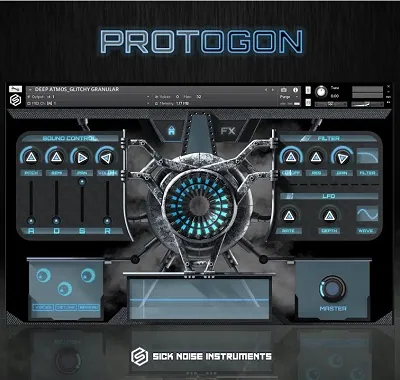 Sick Noise Instruments is proud to present a brand new Kontact library called Protogon Horizon PRO. This Hi Tech Futuristic Dark Industrial Cinematic library is also useful for many genres like Psytrance, Dubstep, HighTech and many other electronic music genres. It can also be used in cinematic tracks and trailers.
Requirements: Native Instruments KONTAKT version 5.8.1 or newer
Protogon Horizon delivers truly unique and inspiring sounds and it has more then 8 GB of sound. Protogon is not only library its also a synth.Whit Protogon you have full contorl of sounds.
This is Kontakt Library for FULL version of Kontakt. This library is not for Kontakt Player.PROTOGON HORIZON will work in 5.8.1 version of Kontakt and newer!
Protogon HORIZON PRO categories:
9 – Ambience Pads
6 – Bass
12 – Booms
10 – Brams
30 – Clap,Snare FXs Impacts
30 – Long Downers
30 – Short Downers
9 – Machine Downers
24 – Hits
21 – Kick Machine Impacts
6 – Kicks
15 – Machine FX
10 – Pads
10 – Pulses
12 – Reverse Rizers
30 – Long Rizers
30 – Short Rizers
20 – Synths
Protogon Horizon Main Controls:
Sound Control:
Pitch,Semi,Pan,Volume
ADSR Envelope:
Attack,Decay,Sustain,Release
Filter:
Cutoff,Resonance,Gain
LFO:
Rate,Depth
Waveforms(Sine,Triangle,Pulse,Ramp down,Ramp Up ,Random)
Unison:
Voices,Detune,Spread
Effects Panel:
Protogon has 5 effects:
Reverb:
Pre Delay,Size,Colour,Dump,Stereo
Delay:
Time,Dump,Pan,Feedback
Flanger:
Depth,Speed,Phase,Feedback
Phaser:
Depth,Speed,Phase,Feedback
Distortion:
Volume,Tone,Drive
REQUIREMENTS
Host software / DAW
8.6GB free disk space
Modern CPU
Native Instruments KONTAKT version 5.8.1 or newer
Works at PC and MAC