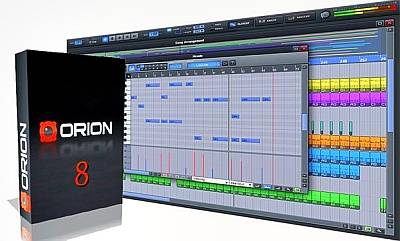 Year / Date of Release : 10/26/2015
Version : v8.6
Developer : Synapse Audio
Developer site : synapse-audio
Bit depth : 32bit 64bit
Interface language : English
Tablet : present | R2R
System requirements : CPU P4 / 1.4GHz, SSE2 support
RAM 512 MB
DISK 200 MB
VIDEO 1280×800
Soundcard with MME, DX or ASIO drivers
Description : Synapse Audio is a complete digital audio workstation. The eighth version of Orion contains a fairly large number of updates that have been prepared over a fairly long two-year period.
Synapse Audio Orion has new instruments, new features have been added, and a new Acoustic Grand instrument has been added – a sample-based piano emulation. "Vintage" stereo chorus that echoes the sound of similar processing devices in the 70s and 80s.
The mixer now has a tighter integration with the program sequencer, added subgroups (now there are eight), the ability to insert a third effect processor. Added special output settings: Equal Power 0dB, Equal Power -3dB and Linear -6dB (for broadcast), and PDC (plugin delay compensation) is supported on the machine. Internal processing – 64 bits double precision.
Apparently, the main task that the developers solved as part of the updates to Synapse Audio Orion was to solve mastering issues within the program itself.
The new Pro-9 is an improved version of the XR-909. The Pro-9 offers virtual analog simulation of drum sounds with stunning quality and precision, making it not only indistinguishable from hardware, but also delivers the same analog feel.
The user interface includes controls for each drum sound, as well as a classic step sequencer for quick and easy pattern building. Includes a total of 11 synth sounds including Bass Drum, Snare, Toms, Clap, Rimshot, Hihats and Cymbals. The Pro-9 is fully General MIDI (GM) compatible, so it can be used with appropriate MIDI equipment.
Acoustic Grand is a new high quality piano sample-based module.
New effects:
The effects section has been expanded to include a high quality Brickwall Limiter lookahead and a new compressor, built to professional standards. Orion now has the ability to create master tracks without the need for third-party plugins. The new Vintage Chorus is a detailed reincarnation of the warm, analog stereo chorus from the 70s and 80s.
New mixing console: The
updated mixing console doubles the number of parallel subgroups to eight and adds an additional insert slot, eliminating the need for unnecessary routing.
Another new feature is the ability to automate the mixer pattern in the sequencer.
Templates and Song Merge
The new Template system allows you to completely customize the plugins you work with. For example, you can create MIDI assignments, route instruments to specific buses, and apply insert effects. The template is added to the project in the same way as the effect, with a single click. Another new Merge feature: Assuming you've created a great bass line in an old project, Merge will make it easy to include that track in a new project, keeping its pattern, arrangement, Mixer / EQ settings, effects, and so on.