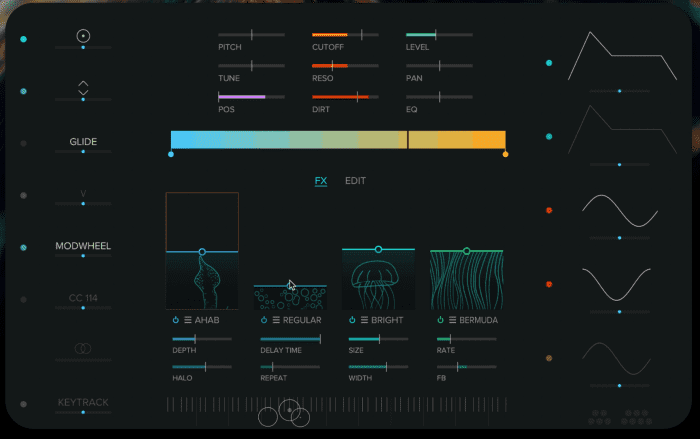 Gloomy. Bright. Organic. Rich. Inspiring. Fast. Visual. Mystical. Modulating. visual synthesizer.
Abyss is a visual synth with character and some fairy tale dust. It features dark vibrating drones, vibrant cinematic pads, and rich evolving textures. With Abyss you will instantly find inspiration for your music and sound projects!
Instruments with nuances – The color approach provides an easy way to create complex sounds. This is combined with a powerful and easy to use modulation system. Tune, distort, modulate your sound to sonic frenzy or create familiar instruments
Tone Colors – Whether we are describing sounds or colors – we use the same words like warm, cool, dark, soft or energetic. It is no coincidence that we call tone-color with the same words. In Abyss different sounds are represented by different colors – it's a whole new way to create sounds.
Rich and Deep Sound – The Abyss sound engine combines the rich and deep textures of natural sounds with the efficient flexibility of classic synths. Of course, there is a virtual analog filter, but there are also controls to shape the tone colors in unheard of ways. Discover new sound possibilities!
Sound Surfing – Scrolling through endless lists of weirdly named sounds isn't always fun. In Abyss, you can simply navigate through the panel with over 2000 color shades. Find your sound faster than ever.
Variation that makes sounds interesting – By placing color tones on a gradient, you create a palette of timbre variations that becomes the basis of your patch. Whether you mainly use presets or are an experienced sound engineer, with Abyss you simply follow your intuition to create your own signature sound.
---
Unique and inspiring workflow based on sound colours.
More than 2000 sound colors as building blocks for patches.
Unique "sound surfing" for selecting sound colors.
Each sound color can be modified with spectral processing.
Noise parameter adds "musical noise" – specifically based on and tuned to the selected sound color.
Virtual analog filter with resonance.
Four sound effects: Shimmer, Delay, Reverb and Phaser.
Optional brick wall limiter.
Arbitrary modulation with 13 sources and 23 destinations.
2 ADSRs, 3 LFOs.
LFO supports free drawing of curve.
Two of the LFOs can be used as a step sequencer.
Unique "stereo" modifier that allows to skew most parameters differently for left and right channel.
Modulation parameters can be modulated themselves (eg LFO-speed).
Easy pitch snap function to stay within scale.
MPE support.
Scalable, responsive UI.
More than 130 carefully crafted patches.