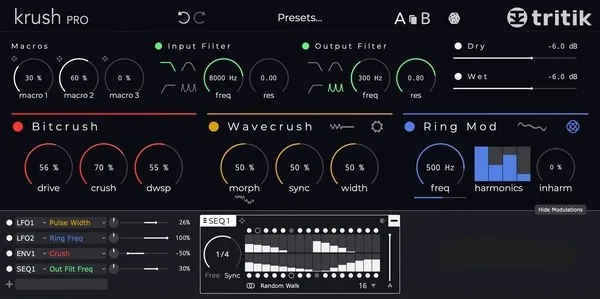 KrushPro has many new features that take our free Krush to the next level .
Several modulation options have been added (LFOs, step sequencers, ambience repeater, etc.) and KrushPro is the first plug-in with full stereo modulation capabilities: All modulators are stereo, and each modulation slot has a stereo balance knob. The ability to modulate the parameters of the left and right channels differently brings something new to the table and allows you to create unheard of stereo effects.
KrushPro includes our award-winning beat crusher processor as well as the new Wavecrushing distortion module, built around an innovative waveset processing algorithm. New tonal possibilities also come with the addition of a dual frequency shifter/ring modulator fx module and two input/output filter sections.
added: 34 new presets from Sink and Victor Morello.
fixed: problem with mono to stereo config on some hosts (unprocessed right channel).
fixed: inaccurate synchronization of bass and sequencer when synchronizing with the host.