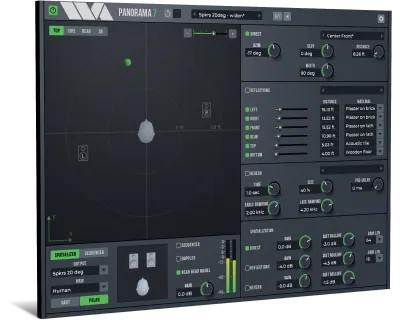 Free Download Panorama 7 VST Plugin by Wave Arts, Version 7.06 as an Offline Installer for Windows PC.
Overview of Panorama 7
Panorama 7 is a virtual acoustics processor that can create stunningly realistic sound scenes for playback through headphones or speakers. Panorama uses 3D audio and acoustic modeling technology to simulate the acoustics of sound propagation in real rooms.
Features of Panorama 7
3D Audio Production: You can insert Panorama on every track in your mix and use it to pan individual sounds in virtual space, making it ideal for headphone mixes.
Stereo Panning Effects: Panorama can be used for special panning effects in regular stereo mixes, going beyond conventional power panning.
Stereo "Autopanning" Effects: With a powerful sequencer, Panorama allows you to create modulating panning effects by automating panning positions.
Stereo Extension: It can process stereo mixes to make them sound exceptionally wide when played through speakers.
Virtual Monitoring: Panorama also simulates stereo and surround playback when used with headphones.
Technical Details & System Requirements
Changes: As of 11/01/2023, there have been several updates and fixes to Panorama 7, including resolving a crash issue on Apple Silicon devices in Logic and improving the installation process for MacOS.

Format

: VST, VST3, AAX

Bit depth

: 64bit

System requirements

: Windows 7 / 8 / 10 / 11