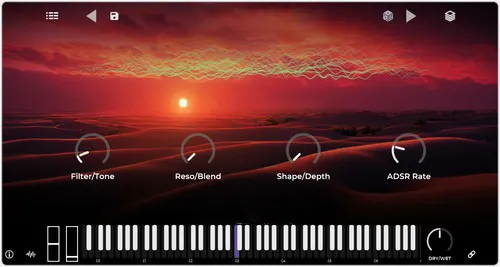 Theia offers streamlined access to the potent Hyperion synthesizer and its vast sound library, boasting around 600 meticulously crafted presets. Theia's interface is designed with performance in mind, making it a powerful source of musical inspiration for creators across genres.
Key Features
User-Friendly Interface: Theia's minimalist interface keeps your focus on the music-making process. It features auto-assigned macro controls for quick adjustments to essential sonic parameters. Each preset comes with a custom background, enhancing your creative inspiration. Visualize your sound with waveform previews, simplifying patch navigation. And if you're feeling stuck, hit the cube button for a random patch to spark your creativity.
Efficient Browser: Discovering your ideal sound within Theia's extensive preset library of 587 factory presets is effortless thanks to the intuitive browser. Filter presets by instrument type, performance, or emotion, and organize the results by author, type, title, and more. Set favorites with a single click for easy recall later.
Sound Layer Editor: Delve into the heart of each preset with the Sound Layer Editor, where you can access and customize the multiple layers comprising rich, complex sounds. Each layer can be individually configured, allowing you to fine-tune parameters such as MIDI channel selection, transposition, key response zones, pitch bend ranges, voice distribution, and arpeggiation settings.