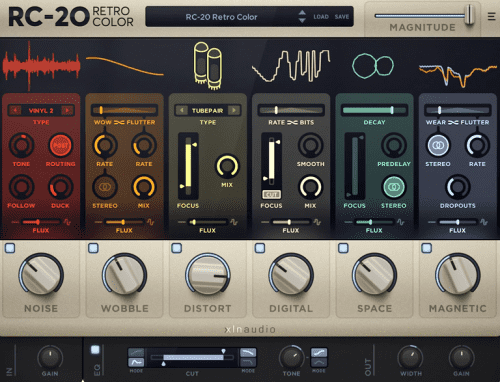 RC-20 Retro Color is a game-changing plugin that injects life and texture into your audio recordings. Designed to capture the essence of vintage recording equipment, it effortlessly delivers the warm, nostalgic ambiance of classic gear while seamlessly integrating with modern production environments. Whether you're working on drums, guitars, keyboards, bass, full mixes, or post-processing, RC-20 Retro Color is your go-to tool for adding character and color to your sound.
Key Features of RC-20 Retro Color:
Inspired by Classic Gear: RC-20 Retro Color draws inspiration from revered vintage equipment, channeling its sonic qualities into your music production. It's your ticket to achieving that coveted analog warmth and character.

Flux Engine for Analog Warmth: The Flux Engine is at the heart of RC-20 Retro Color, infusing your audio with the rich vibrations of warm analog tones. Say goodbye to sterile, lifeless sound and embrace the vibrancy that only analog emulation can provide.

Instant Presets for All Styles: RC-20 Retro Color comes equipped with individual presets tailored for various instruments, including drums, keyboards, guitars, bass, full mixes, and post-processing. These presets jumpstart your creativity, helping you achieve the desired sound right from the get-go.