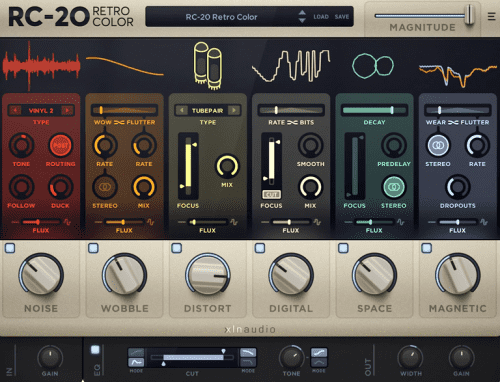 RC-20 Retro Color is a plug-in for creative effects that adds life and texture to any recording.
It effortlessly recreates the warm and cozy feel of vintage recording gear, but also works great in any modern production environment.
Individual RC-20 presets for drums, keyboards, guitars, bass, full mixes and post-processing get you up and running right away.
Add. Information :
RC-20 Retro Color – Your sound. In color. Adds life and texture
inspired by classic gear. Great for drums, guitars,
keyboards, bass and full mixes, the Flux Engine adds warm analog vibrations.
1. Install XLN.Audio.RC-20.Retro.Color.v1.2.6.2.
2. From the installed folder C:\ProgramData\XLN Audio\RC-20 Retro Color\App, copy the FXFX0003 and Sound Data folders with replacement
to the RC-20 Retro Color\App folder from the distribution and click RC20_Library_Placer.exe.
(First of all, define the RC-20 Retro Color folder, for example, in "my documents" and do not move it)
3. If necessary, activate the plug-in.
4. Run the plugin.