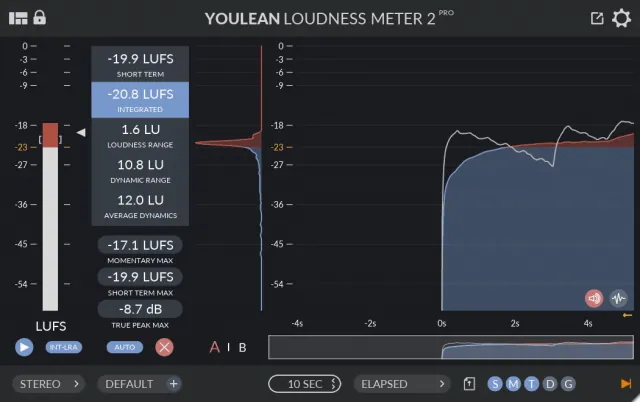 Loudness Meter helps you find the true perceived loudness of your audio and prepares it for release on TV or audio streaming services. Join the thousands of recording studios already using it.
The plugin is calibrated and tested according to ITU-R BS2217 test materials. It satisfies all the requirements defined in ITU-R BS.1770.
Loudness Meter
 – Helps you meet the strict volume requirements for film and television. Help you get the right volume levels to upload to Spotify, YouTube, Apple Music and Tidal.
Measuring Dynamics
 – Don't let your mix sound crushed and unprofessional. Get the most out of your mixing, make any track healthy on all streaming platforms!
Various presets
 – Find out which standards apply in your country and use ITU-R BS.1770-4, EBU R128, ATSC A/85, OP-59, ARIB TR-B32, AGCOM 219/09/CSP, ASWG-R001 HOME or ASWG-R001 PORTABLE.
Stream presets
– Make sure your audio will feel great on Spotify, YouTube, Apple Music, Tidal or streaming with AES preset volume.
Dynamics Mapping
 – See exactly what's going on with the audio dynamics. Using the dynamic range algorithm, you can detect a clipped or mis-compressed mix.
V2.4.3 – February 14, 2021
Fixed choppy scrolling in menus on macOS
Fixed forced dedicated GPU switch on macOS. Now the current GPU will be used if possible
Fixed default preset not loading correctly
Fixed loading custom preset does not change the GUI size
Fixed meter in FCPX getting disabled in Big Sur
Fixed OS preventing editing files after drag and drop
Fixed using multi-file drag and drop could lead to incorrect analysis if channel settings are preselected
Fixed app moving up when resizing the window on macOS
Fixed installer not working in 32 bit Windows
Fixed potential huge RAM usage with VST3 plugin
Fixed GUI flickering in some DAWs on older macOS systems
Fixed Time Code not working in some situations in Pro Tools
Updated VST3 SDK to the 3.7.1
Added support for Apple Silicon
Added warning when sample rate is incorrect in the app
If the sample rate is missing in the app preferences, a default sample rate will be used
Removed momentary window knob
Simplified buffer settings in the app preferences
Ignore master volume setting in app preferences is now disabled by default
Changed view settings icon (hopefully more clear now)
macOS 10.9 is now a minimum system requirement for macOS
Other small UI, UX improvements
V2.5.2 – BETA – April 25, 2022
Fixed crash when showing a message box
V2.5.1 – BETA – April 24, 2022
Fixed normalization bug
Fixed window resizing bug
+ MOCHA Fix: crashes when saving presest