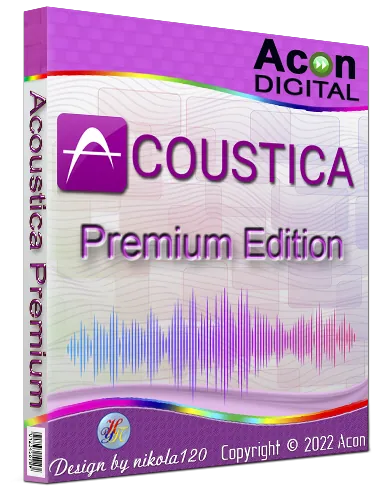 Acoustica Premium Edition is a professional program that allows you to conduct audio recording, editing and mastering at a high level.
I would like to note the intuitive interface in which it is pleasant to work.
It has been designed so that you can get up and running as quickly as possible while gaining access to powerful tools.
All audio files that you have edited can be immediately burned to a CD, while you will be able to add various sound effects to the track.
Please note that the program supports work with different acoustics from 5.1 to 7.1, and the maximum sampling frequency is 384 kHz.
You can customize the toolbar and menu, if you wish, you can use the button to undo your action,
Acon Digital Media Acoustica provides standard tools for editing a track, you can cut, copy, paste and edit tracks.
There is no Russian support, but as mentioned above, this is not a problem, it is still worth highlighting the low consumption of computer resources and an excellent output result.
Key features:
• Record and playback via any compatible Windows (MIT) or ASIO compatible audio device
• Support for multi-channel editing up to 7.1
• Support for sample rates up to 384kHz and resolution up to 32-bit
• Timer and input level triggered recording
• Software emulation with auto preamp
• Customizable menus and toolbars
• Undo or redo without restrictions
• Ultra Fast editing
• Standard cut, copy, paste and Mix editing
• Drag and drop editing by simple drag and drop
• Label and marker support
• Cleanup wizard
• Various time formats such as index pattern, SMPTE, bars and bits
• Tracks can be saved as separate files
Real Time Analyzers
• Visual Peak RMS Meter
• FFT Analyzer
• Phase Correlator
• Time Display
Analysis
• Fourier spectrum
• Fourier spectrograms (2D, time-frequency domain)
• Waveforms (based on Morlaix waves)
• Statistics (RMS, DC offsets, loudness peaks, etc.)
• Automatic track division
Plug-in Suites (integrated)
• Studio Clean for audio restoration (VST and DirectX)
• Studio Time for stretching/reducing time and pitch bending (DirectX)
• Studio Necessities for mastering and sound design (VST and DirectX)
Tools & Plugins
• Effects Editor
• DirectX® Plug-Ins
Support • VST Plug-Ins Support
• Real-time Listening to Effects
• New Preset Manager Allows Saving Custom Effects Presets
• High Quality Studio Time
• Freehand Volume Curves
• Fade Inputs and outputs with four different curves
• High quality format conversion
• Jitter and noise
• Channel Mixer for stereo correction
Audio Restoration
• Noise and crackle removal (StudioDeclicker)
• Noise reduction (StudioDenoiser) based on spectral subtraction
• Automatic noise reduction that does not require a separate noise profile analysis
• Parametric EQ with graphical display of frequency response
• Synthesis of high-frequency components brings old recordings to life
• Automatic removal of DC offsets
• Stereo Amplifier
• StudioDeclipper
Import audio tracks from the following video file formats:
• MPEG Video (MPG or MPEG)
• Windows Media Video (WMV)
• Audio Video Interleave (AVI – additional codecs may be required)
Reading and writing files of the following formats:
• Ogg Vorbis format (OGG)
• Wave audio format (WAV)
• Windows Media Audio (WMA)
• MPEG Layer 3 (mp3)
• Sun audio format (AC)
Effects:
StudioVerb, StudioDelay, StudioModulator – flanger, chorus and phases, StudioDynamics, StudioLimiter,
StudioPitch, Harmonizer
Other:
• Support for LAME codec (mp3) if installed
• Edit file meta information: title, MP3 format (ID3Tag), WAV and OGG.
• Support for ACID information
• Preview button in the file open dialog
RePack features:
Type: installation, unpacking portable by TryRooM
Languages: Russian / English (Crack from TryRooM, source gaz.)
Treatment: carried out, Activator-R2R.
Extras: bit depth (x64)
Removed: German help and language.
Added VST and VST3 plugins to the installer.
Command line switches:
Silent installation of the Russian version: /VERYSILENT /I /RU
Silent installation of the English version: /VERYSILENT /I /EN
Silent installation without plugins of the Russian version: /VERYSILENT /I /RU /NP
Silent installation without plugins of the English version: /VERYSILENT /I /EN /NP
Silent unpack: /VERYSILENT /P
Don't create desktop shortcut: /ND
Don't create start menu shortcut: /NS
Selecting the installation location: /D=PATH The /D=PATH
switch should be the last one
. For example: install_file.exe /VERYSILENT /I /D=C:MyProgram