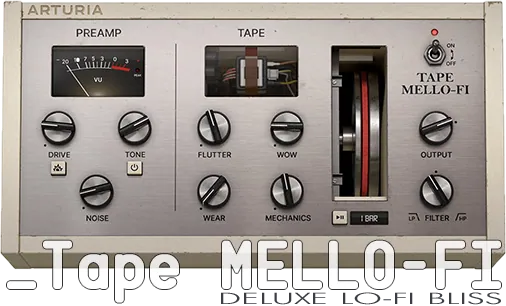 Tape MELLO-FI is an easy-to-use plug-in that brings atmosphere and vintage warmth to any sound.
Use its simple preamp, modulation and filter/output sections to add vibes to your lo-fi mix.
The ribbon emulator, in addition to the lo-fi effect, has classic controls including Noise, Flutter, Wow, Wear, and Mechanics.
Also offered are features such as Distortion, Boost and an interactive tape wheel with a tempo-locked Tape Stop parameter and an additional Instant Tape Catch-up feature.
In addition, the plugin features a 12dB low/high filter section and an Enhanced Stereo Width parameter that shifts Wow and Flutter from left to right for ultra-wide sound.
In addition, a special library of 25 presets is available for quick access to retro and lo-fi effects.