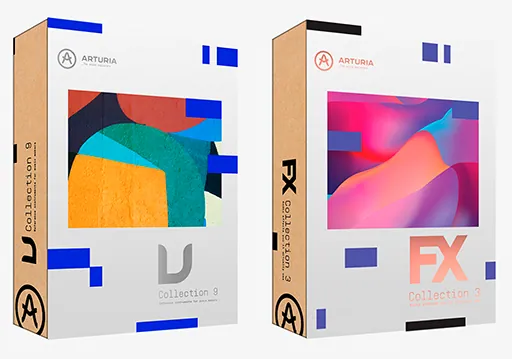 A set of synthesizers and effects from Arturia.
Distribution Composition
Synths Collection
ARP 2600 V3
Buchla Easel V
CMI V
CS-80 V4
CZ V
DX7 V
Emulator II V
Jun-6 V
Jup-8 V4
MS-20 V
Matrix-12 V2
Mini V3
Modular V3
OP-Xa V
Prophet-5 V
Prophet-VS V
SEM V2
SQ80 V
Synclavier V
Synthi V
Vocoder V
MiniFreak V is in this giveaway
Keyboards & Pianos
B-3 V2
Clavinet V
Farfisa V
Mellotron V
Piano V3
Solina V2
Stage-73 V2
VOX Continental V2
Wurli V2
Augmented Series
Augmented STRINGS
Augmented VOICES
Augmented GRAND PIANO
FX Collection
Bus FORCE
Chorus DIMENSION-D
Chorus JUN-6
Comp DIODE-609
Comp FET-76
Comp TUBE-STA
Comp VCA-65
Delay ETERNITY
Delay MEMORY-BRIGADE
Delay TAPE-201
Dist COLDFIRE
Dist OPAMP-21
Dist TUBE-CULTURE
Efx FRAGMENTS
EQ SITRAL -295
Filter M12
Filter MINI
Filter MS-20
Filter SEM
Flanger BL-20
Phaser BI-TRON
Pre 1973
Pre TridA
Pre V76
Rev INTENSITY
Rev PLATE-140
Rev SPRING-636
Tape MELLO-Fi
Arturia Sound Banks Bundle 03.2023
Analog Lab V
Pigments v4.0.3
Installation
1 – Install required instruments/effects
2 – Apply patch:
for all V Collection, Pigments, Augmented STRINGS and Augmented VOICES use patcher ARTURIA-SYNTHS_PATCHER_2_01[XDIE], patch for Augmented GRAND PIANO is located in the appropriate folder (read instructions info.txt);
for each effect from the FX Collection there is a separate patch in the corresponding folder (read info.txt instructions).
Additionally
For patchers to work successfully, you need Command Line Tools to install, open the terminal and paste the xcode-select –install command , enter the account password and wait.
do not forget that MiniFreak V is in the next distribution and there is no separate patch for it yet.
Installing Libraries
Mount the disk image, open the Library folder on your computer, transfer the Arturia folder from the disk image to the Library folder by holding down the Option button, select "Merge" in the window that appears. Ready.
If you accidentally copy with a replacement, you will lose all your presets.