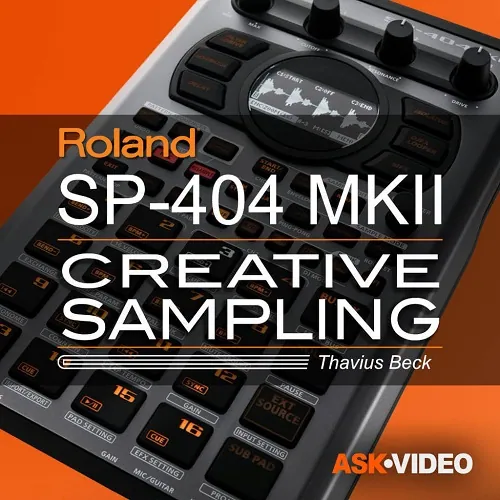 The Roland SP-404 MK2 is the ultimate creative sampler. Unlock the limitless creative possibilities of this popular sampling device in this fun and comprehensive course, by teacher and producer Thavius Beck.
The Roland SP404 MkII is a powerful and portable sampler and effects unit that has gained popularity among lo-fi, hip-hop and electronic musicians and producers, and according to trainer Thavius Beck, it's the best music gear that you can buy at the moment for the money. So join him in this course, where you'll unlock the full potential of this creative sampler. Discover how to craft distinctive sounds, manipulate samples, apply effects, sequence patterns, and even employ it as a DJ tool. Whether you're a newcomer eager to delve into the world of sampling, or a seasoned user in search of advanced techniques, this course will give you the knowledge you need to fully master the SP404 MkII.
First, Thavius reveals various aspects of working with the SP-404. You learn about organizing projects and banks, different sample playback modes, manipulating samples, using trimming, transposing, and time-stretching. You explore advanced techniques such as applying envelopes, mute groups, utilizing skipback recording, sample chopping, and more.
The SP404 MkII is equipped with a wide range of high-quality effects. Thavius explains everything you need to learn about FX settings and how to effectively use resampling with internal effects. Continuing with the course, Thavius guides you through pattern recording, utilizing TR REC mode for step sequencing, pattern copying, selective copying and motion recording. You also discover DJ mode, how to connect and utilize the SP404 MkII's audio and MIDI features via USB, and a lot more.
It's time to get creative! Join Thavius as your fearless sampling mentor, and together, let's push the boundaries of music production with the Roland SP-404 MK2.
Thavius Beck
"Thavius Beck is an electronic musician/producer/programmer as well as an electronic music educator who has worked with various artists ranging from Nine Inch Nails to Saul Williams to singer/songwriter Skylar Grey."
His previous works are known for their distinctive sound which melds equal parts rock, hip-hop, soul, industrial, and electronic music, with a heavy focus on deep bass, sample manipulation, and multi-track recording, showcasing his diverse musical influences with everything he makes.
In addition to making and performing his own music, he has held electronic music workshops in multiple countries, regularly gives one-on-one tutorials to private students and various artists, and has worked closely with various companies doing product demonstrations, dealer trainings, beta testing, and showcasing gear that he is most passionate about.
We are proud to bring Thavius to our ever-expanding audience!
Content
Section 1: Intro
1. Introducing the SP404mk2 (1m 27s)
Section 2: Working with Samples
2. Projects and Banks (1m 52s)
3. Sample Playback Modes (4m 46s)
4. Trimming, Transposing, and Timestretching (6m 3s)
5. Envelopes, Mute Groups, and Parameter Changes per Bank (5m 44s)
6. Sampling External Audio (4m 58s)
7. Skipback Recording (3m 43s)
8. Sample Chopping (5m 25s)
9. Input Settings (4m 49s)
Section 3: Working with EFX
10. EFX Settings (7m 20s)
11. Resampling (5m 26s)
Section 4: Sequencing
12. Pattern Recording (3m 56s)
13. TR Rec Mode (4m 38s)
14. Pattern Copy and Sample Select (4m 36s)
15. Motion Recording (6m 40s)
Section 5: DJ Mode
16. DJ mode (4m 7s)
17. DJ mode parameters (3m 24s)
Section 6: MIDI and USB
18. Audio and MIDI via USB (5m 17s)
19. EFX Control via MIDI (3m 15s)