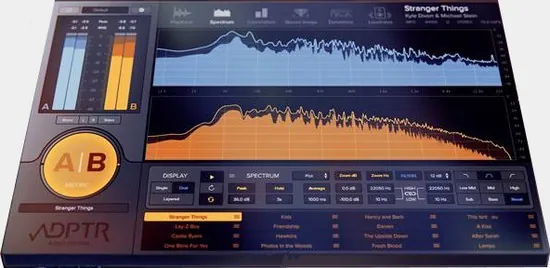 The Metric AB plugin allows you to compare your mix with any reference mix by simply pressing the AB button. It is designed to provide you with a clear, intuitive workflow and unique analysis tools. Welcome to the new reference mixing standard. Just put it on the master channel and switch between your real mix and the CD or iTunes mix made by your favorite engineers and bands, other versions of your mix, and more.
Characteristics
New version 1.4 with significant feature update!
Advanced A/B Comparisons :
Metric AB by ADPTR AUDIO is a reference plug-in that lets you see and hear how your mix compares to any song by pressing the famous "A/B" button. The new update includes features requested by the music community, giving you even more control and a better overall experience.
Workflow optimization :
All reference meters needed for mixing and mastering. Insert Metric AB into the master channel, bind the "A/B" button and quickly switch between mixes using the keyboard.
Instant Volume Matching :
Drag and drop up to 16 reference tracks to Metric AB. Compare the volume of your mix and all reference tracks at once. There are four different volume matching modes to choose from. Eliminate volume offset and make accurate A/B comparisons in seconds.
Accurate playback settings :
Synchronize the playback of reference tracks with your DAW. Set markers to play reference tracks at the beginning of various parts of the song. Depending on your preference, select Latch, Cue, Sync, or Manual playback mode to change the playback behavior of reference tracks.
See the differences :
In several analysis modes: spectrum, correlation, stereo image, dynamics and loudness (LUFS). Choose from plot options including Plot, Octave, 3rd Octave, Critical, and Multi. View Stream A (blue) and Stream B (orange) individually, side by side, or in a layer to reveal subtle differences in the mix.
Hear the Differences :
Mastering meters are useful for spotting technical inconsistencies in a mix. However, hearing should also be used to determine if changes need to be made to the mix. The Metric AB filter bank lets you solo across a wide range of frequencies and hear the sound accurately.
Support for various audio formats and languages :
Metric AB can play reference tracks in various formats including WAV, AIFF, FLAC, M4A and MP3. It also supports characters in different languages, which allows you to display the names of your favorite songs according to their purpose.
New in Metric AB version 1.4 :
Version 1.4 of Metric AB adds support for the Apple M1 and M2 chips in all major plug-in formats, including AAX for Pro Tools, resized the user interface, improved GUI, improved usability, added file compatibility, improved filters, improved DAW compatibility, fixed numerous bugs. Key enhancements include new volume matching modes, a re-optimized graphics rendering system, improved filter accuracy, and expanded MIDI parameter accessibility.
Peculiarities
Compare your mix to a one-button reference.
16 slots for reference tracks.
Instant volume matching.
Cue points synchronized with DAW.
Five detailed mastering meters.
Customizable filter bank.
Changeable user interface (S, M, L, XL).