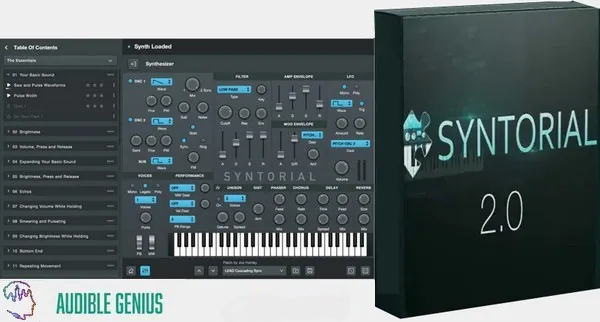 ~ A NEW WAY TO LEARN SYNTHESIS ~
Syntorial is a video game-like tutorial that teaches you how to program synth patches by ear.
With nearly 200 lessons combining video demos and interactive activities,
you'll get hands-on patch programming on the built-in soft synth and learn everything
you need to know to create your own sounds with ease.
This is no ordinary synthesizer tutorial. This is Syntorial.
Characteristics
INTERACTIVE LEARNING :
The Syntorial does more than just show you how synthesizer programming works. It involves you in 128 interactive tasks in which you program patches on the built-in synthesizer. You don't just learn how to create sound, you become a sound designer.
FOR MUSICIANS, NOT FOR PHYSICISTS :
Instead of talking about the science and physics behind synths, Syntorial will show you how each control affects the sound, as well as when, why, and how you will use them when creating sounds. This is information that can be immediately applied to real situations.
IT'S ALL IN THE EAR :
Step by step, Syntorial trains your ear to recognize how each control shapes and manipulates sound. By the end of the program, you will be able to take the sounds you hear and recreate them entirely by ear.
SYNTHESIZER PLUG INCLUDED :
Syntorial's built-in synthesizer, known as Primer, also comes as a VST/AU plugin that is included with Syntorial. Thus, you can take the very synthesizer that you are learning on and use it in any recording program that supports VST and AU plugins.
EXPANDABLE :
Along with the 197 core lessons included with Syntorial, additional lesson packs expand your learning experience and allow you to explore other areas of the synthesizer. Check out the current lineup.
Content
128 CHALLENGES :
Learn by doing! Get the job done as you program patches with Syntorial's built-in synthesizer.
148 VIDEO :
Learn through video demonstrations using the same synthesizer that you will use in the tasks.
706 PATCHES :
Program, program, program. After all, that's the whole point, right? By the end of the course, you will have programmed over 700 patches, from simple to complex, familiar to unusual.
64 SYNTH PARAMETERS :
Syntorial covers the most common parameters of most synthesizers. For more information, see the FAQ section .
33 INDEPENDENT WORK:
Syntorial provides you with periodic tasks to complete on your own on any synthesizer you use.
38 QUIZS :
Multiple choice questions help you remember everything you learn.