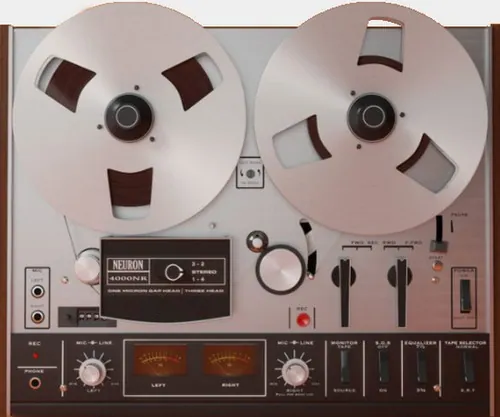 Neurontape 1972 brings you a fantastic simulation of this hardware which is currently hard to find in good condition. We recorded it from a device that has remained virtually untouched over the years. The sound of the preamp is thick, warm and, when overloaded, wildly saturates the circuit. This Japanese-made device is about 50 years old. Sounds amazing.
Characteristics
Mixing Applications :
From mix bus to parallel distortion, Neurontape 1972 is a must-have plugin for anyone who wants to saturate tracks, glue a mix together with natural analog signal compression or even analog distortion. Experiment with different input/output levels to see what the circuit is really capable of.
Authentic Vintage (circuit and tape behavior):
With meticulous attention to detail, we've created a plug-in that emulates the subtle nuances of a tape recorder, such as tape hiss, wah and flutter, and harmonic distortion, to give your recordings an authentic retro sound.
Tape options (choose between new and old tape):
The Neurontape 1972 can be preamplified on a variety of tapes. The new tape has a wider frequency range and cleaner noise, while the old tape has more character and is a little unstable.
Unit EQ (different sources require different EQ):
Back in 1972, this unit came with a built-in EQ to suit different recording scenarios. Of course Neurontape 1972 also has it.