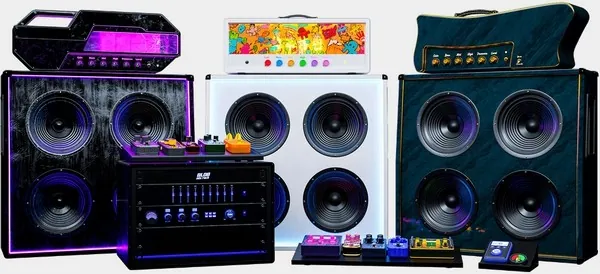 Connect, open Fat Blob and play on guitar, where you want, when you want…
With the guitar tones you want!
IT'S SIMPLE, I AM A FAT BLOB, A VIRTUAL STUDIO AUDIO TECHNOLOGY PLUG-IN DESIGNED TO OFFER YOU MAXIMUM VERSATILITY, COMFORT AND ERGONOMICITY
 .
In addition to being completely standalone, I adapt to all DAW programs.
I take 3 amplifiers with me
 :
"Blue", which will take care to offer you a clear sound, at the same time warm, crystal, but especially adjustable / modulated if desired.
Then, you will find "Green", in addition to being stylish and vintage looking, it will offer you a crunchy, crunchy but also explosive sound when you ask for it.
And the last "Purple", with it welcome to the world of modern rock, metal and other music that will make your head move. With super advanced and precise amplification, you will be able to use your guitar as a weapon of mass destruction.
But that is not all! In addition to these amplifiers, you will find 10 effects pedals that will allow you to customize your sound to the maximum and, above all, unleash your creativity.
I forgot to say… I've accepted the challenge to offer you a unique tool to push your amp simulation to its limits! That is why I will be equipped with the first MIX RACK for guitar, with which you can mix your sound directly from the FAT BLOB, expecting a huge, incredible and professional result!