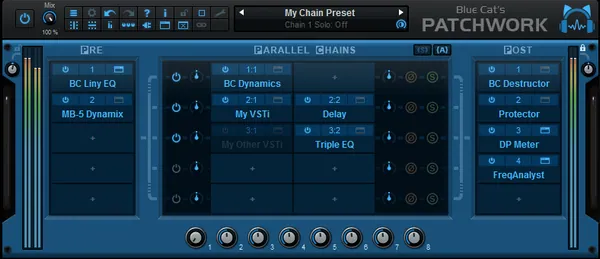 Effects can be connected in series or create up to 8 parallel chains that can be activated independently of each other. This allows you to create your favorite effects or instrument configurations within the plugin without the need for multiple buses. These configurations can be saved as presets and instantly recalled, or shared with multiple DAWs using any plugin format (full list below). Use the built-in sound effects to color your own plugin chains.
Despite the name, you can forget about wires or cables: configuring plug-in routing is as simple as adding or removing a row or column in a rack matrix. All plugins can also communicate with each other or with a host application using the virtual MIDI ports offered by the plugin.
Each plug-in slot provides delay compensation, preset management, undo/redo integration, audio input/output selection, and individual plug-in bypass for optimal performance. The plugin also saves the window position for each plugin so that the layout is restored during your session or saved with presets.
In addition, auxiliary plugins can be automated or controlled from external control panels using PatchWork Blue Cat's parameter mapping capabilities.
This product is available as an audio plug-in (effect or virtual instrument) and a standalone application, so it can be used on its own or inserted into any type of track in your favorite DAW using up to 16 audio channels.
Input and output level meters are also available to monitor the signal that is sent to the inserted plug-ins, including the sidechain and additional channels.
If you are looking for a host of multi-band plugins for multi-band processing, check out the Blue Cat MB-7 Mixer plugin. Also, any Blue Cat Audio plug-in is compatible and can be hosted in this software.
Customizable VST, VST3, or Audio Unit Plugin Rack: Place up to 64 third-party plug-ins or instruments in series or in parallel.
30 built-in effects: reverb, equalizer, filters, pitch and frequency control, delays, modulation effects, compressor, gate, beatcrusher, waveformer and more.
Available as an effect, virtual instrument, or standalone application.
Create your own effect chains: Up to 8 slots for plug-ins "before" and "after" for a sequential chain of plugs.
Parallel processing made easy: up to 8 parallel plug-in chains with phase, solo and gain control.
Support for multi-core processing for parallel chains.
Place up to 8 virtual instruments in parallel and mix them in the plugin.
Global control Dry/Wet ("Mixture").
Parameter Mapping: Map sub-plugin parameters to automate them or use the control panel.
Flexible MIDI routing: connect additional plugins together or with the host application.
Flexible Audio Routing: Connect auxiliary I/O plug-ins to any audio channel.
Support external side chain and multiple outputs.
Link the gain before and after for automatic gain compensation.
Drag or cut, copy and paste plugins with their settings between slots.
Call up complex processing setups and plugin layouts with a single click and share them between your DAWs.
Input and output level monitoring, built-in CPU meter.
Plugins Delay Compensation.
Network audio/MIDI processing server for the Connector plugin.
Supports VST Shell plugins.
Integrated undo/redo.