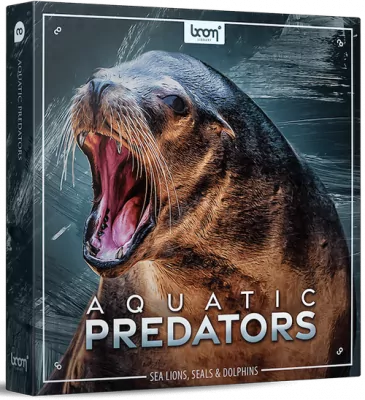 SOUNDS OF SEA LIONS, SEALS, WALRUS AND DOLPHINS Covering the
war cries of shallow-water hunting animals, AQUATIC PREDATORS is an unparalleled collection of animal sounds. From the barking of crouching seals, sea lions and walruses to the whistling and buzzing of deadly dolphins, this library has everything you need to seashore or create the sounds of every terrifying creature imaginable.
UNPARALLELED AND EXCELLENTLY DETAILED SEA SOUNDS AQUATIC
PREDATORS is a fully recorded library containing all the deep guttural moans, hoarse barks and whistles of these famous marine mammals.
192KHz – PERFECT FOR SOUND PRODUCTION AND MORE
With the exception of underwater recordings, every sound was recorded in stereo at 192kHz using a Sanken CO-100K ultra wideband microphone, capturing every detail of these sea hunters. With this high sampling rate, recordings can be distorted, pitched and stretched while maintaining the acoustic beauty of the original sound.
WHAT'S SPECIAL IN THIS SOUND FX LIBRARY?
AQUATIC PREDATORS is a curated library of four avid sea hunters. These sounds, from a grunting sea lion to a whistling dolphin, are accompanied by real barks. Delivered with a 192kHz sample rate, there are endless ways to further manipulate these sounds to create interesting creature sound designs.
To record these high quality sounds, we used our favorite combo of the MS Sanken CO100k with a custom made Pink Noise Systems setup.
COMPATIBLE SOFTWARE
This library of BOOM creature sounds comes as WAV files, which means you can import them and work with them in any software that can handle files of this type.
LARGE BUILT-IN METADATA
To give you the fastest and easiest workflow possible, all files contain rich metadata such as a file description and keywords to quickly find the sounds you need. The metadata can be read and processed by audio controls.