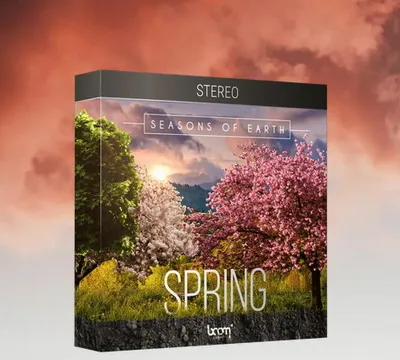 Our planet has a breathtaking sonic spectrum, and every season nature offers us an impressive and multifaceted sonic composition. We've captured the most interesting and iconic scenes in the only way that captures the earth's sonic character as faithfully as possible: with the unrivaled Schoeps ORTF3D Surround set. Use these premium sounds to give your projects the most authentic look possible, from scratch in 3D Surround or Stereo.
When the snow melts and blossoming flowers open, life awakens again and fills the senses. In terms of sound, spring is one of the richest seasons, with dripping rain and symphonies of birds.
royalty-free spring ambiences
144 WAV files • 96kHz/24bit • 23+ GB
Included sounds (keywords):
background, birds, branches, breeze, bushes, buzzing, calmness, canopy, canyon, chirping, coyote, stream, cricket, crows, garbage, desert, dogs, pigeons, dusk, flying, forest, frog , goose, hummingbird, insect, lake shore, leaf, mammal, migratory, moth, night bird, owl, pheasant, pine, prairie, rain, seasonal, shore, squirrel, thin, wetland, wind, woodpecker.